Bank stocks are taking a shellacking this summer, as a synchronized global growth slowdown has dimmed the outlook for loan growth and profitability among global lenders.

Financials have been among the worst hit sectors in the S&P 500 Index (SPX) in recent trading sessions.

The benchmark KBW Nasdaq Global Bank Index (GBKX) has tumbled dramatically in the last six months and is down 4.5% as of August 13.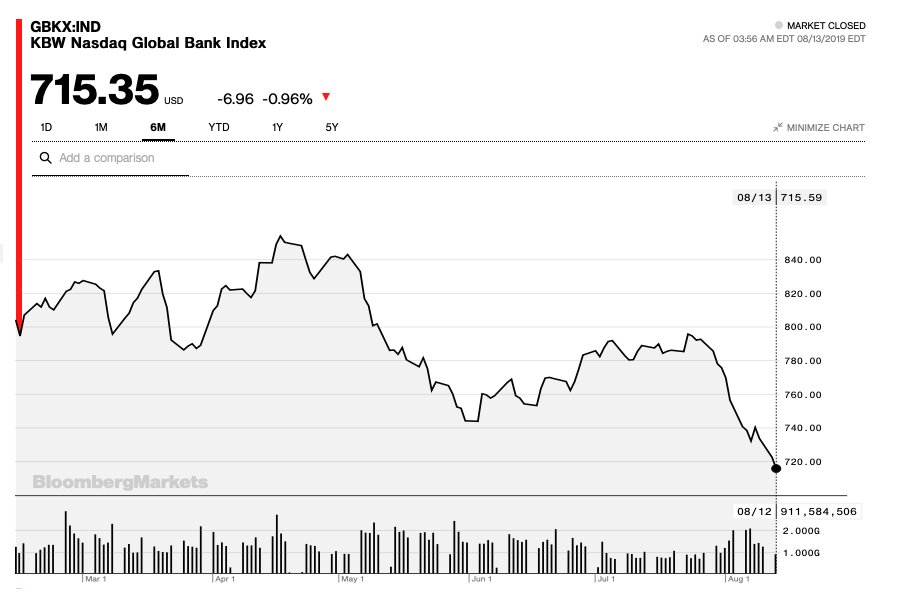 Global Banks

Among the biggest losers are money center banks such as Citigroup (C), JPMorgan (JPM), Bank of America (BAC) and Goldman Sachs (GS).
Fears of slower growth in Europe, China and even the US are placing downward pressure on interest rates.
That in turn hurts banks' profitability on new loans and raises default risk on its existing ones.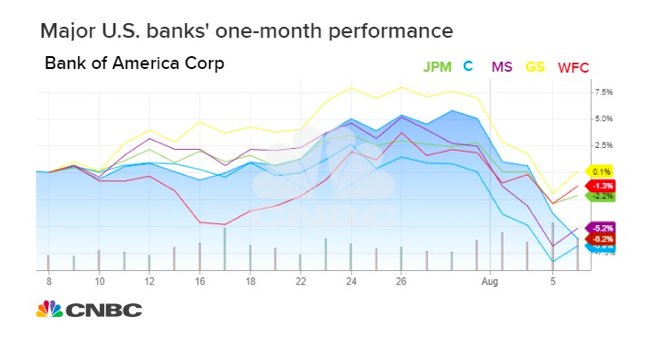 Negative Interest Rates
Another worry is the global trend toward negative interest rates on government bonds, which effectively means that investors are willing to pay governments to store their money rather than get paid a return.
Some $15 trillion in government debt around the world now have negative yields.
That's a problem for banks since they often park their cash in government bonds.
The Fed
In early August, the US Federal Reserve cut its benchmark interest rate by 25 basis points for the first time in more than a decade to stoke US growth.
With President Trump pressuring the central bank to do more, Fed watchers also see more quarter-point reductions in US interest rates before the end of the year.
If so, that could be good news for stock investors and perhaps the broader economy.
But short-term, in my view the Fed easing is going to pose serious challenges for major banks.

Photo Credit: Samuel loannidis via Flickr Creative Commons
Disclosure: Certain of the information contained in this article is based upon forward-looking statements, information and opinions, including descriptions of anticipated market changes and expectations of future activity. These statements are based upon a number of assumptions concerning future conditions that ultimately may prove to be inaccurate. The author believes that such statements, information, and opinions are based upon reasonable estimates and assumptions. However, forward-looking statements, information and opinions are inherently uncertain and actual events or results may differ materially from those reflected in the forward-looking statements. Such forward-looking assessments are subject to risks and uncertainties and may be affected by various factors that may cause actual results to differ materially. Therefore, undue reliance should not be placed on such forward-looking statements, information and opinions.