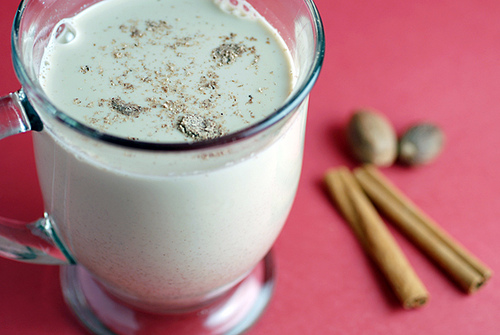 The U.S. stock market is on track for its best year in over a decade, leaving investors in a very cheerful mood this holiday season, according to the latest sentiment surveys.
For example, the percentage of bears in the Investors Intelligence advisors sentiment survey released Thursday fell to 14.1%, the lowest since the reading hit 13.6% in March 1987.
Also, the spread between the bulls and bears climbed to 45.5%, the highest difference of the year.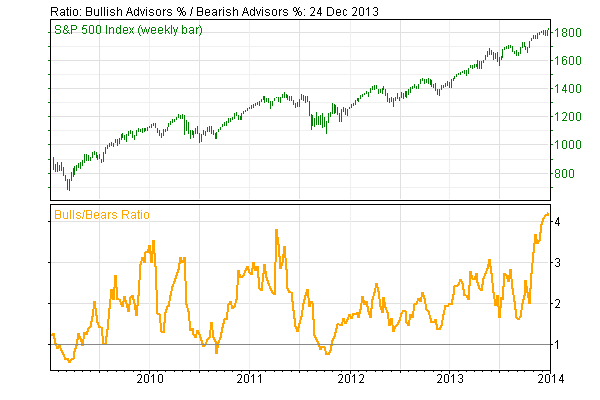 Chart source: Investors Intelligence
"The lofty bullishness suggests the majority of investment funds are committed," Investors Intelligence said. "The bears had been expecting fulfillment when the Fed finally began to trim their bond buying. Instead stocks rocketed higher. Upcoming weeks will be interesting as they try to explain that positive reaction rather than the anticipated selloff."
Bullish sentiment has been steadily climbing in late 2013 along with the U.S. stock market. The S&P 500 is poised for its best year since 1997.
The AAII Investor Sentiment Survey reveals that individual investors are nearly as bullish as advisors. The latest results show bullish sentiment rose 7.7 percentage points to 55.1%, while bearish sentiment fell 6.5 percentage points to 18.5%.
"With individual investor bullish sentiment crossing the 50% mark, should investors be worried?  While the current level is definitely elevated, it's by no means without precedent," Bespoke Investment Group said in a blog post Thursday.
"[G]oing back to 1987, sentiment has been above the 50% mark many times in the past. Coming out of the financial crisis, it has taken a long time for investors to gain trust in the stock market," Bespoke added. "Longer term, the market needs investors to have faith in it as an attractive asset class. As long as earnings can keep up with stock prices and the economy continues to grow, it would be nice to see sentiment stabilize at a more elevated level."
Still, some investors are worried that high current bullish sentiment readings mean the market is ripe for a pullback. Other signs of risk-on behavior include the put/call ratio heavily weighted toward bullish calls, and a narrow yield spread between investment-grade and junk bonds.
Also, investors borrowed another record amount against their brokerage accounts in November as margin debt rose for a sixth straight month, and the CBOE Volatility Index — Wall Street's fear gauge — has fallen close to its 2013 low.
It has been more than two years since the S&P 500 experienced a 10% correction and stocks are in a seasonally strong period. However, the number of stocks participating in the latest move higher is declining, as measured by market breadth. Investors savoring this year's rally may want to brace for a return of volatility in 2014 as another battle over the debt ceiling looms and the Federal Reserve signals further potential tapering.
Photo Credit: elana's pantry
Disclaimer:  The information in this material is not intended to be personalized financial advice and should not be solely relied on for making financial decisions.  All investments involve risk and various investment strategies will not always be profitable.  Past performance does not guarantee future results.