While US small-cap stocks have had decent returns in 2019, they still lag US large caps, with a total return of 11.7% for the Russell 2000 Index relative to a 17% total return for the Russell 1000 Index (as of August 16.) So, what's holding back US small caps and is it time to give the asset class a second look?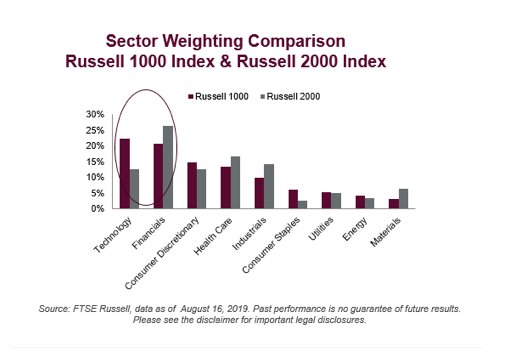 Alec Young, FTSE Russell's managing director of global markets research:
"While many factors impact size performance, sector exposures tell a big part of the story. A detailed look at industry weights helps explain recent small-cap underperformance. It's no secret technology has been strongly outperforming the financial sector as a flattening yield curve and unprecedented declines in interest rates squeeze bank profits. The small cap benchmark sports for a hefty 27% financial industry weight vs. only 21% for its large-cap counterpart. What's more, large caps also have greater exposure to technology performance leadership with a 22% weight versus only 13% for the Russell 2000 Index (see chart).
But interest rates have recently stabilized reflecting US consumer strength in the face of global growth weakness. Consider that the yield on the 10-year treasury bond has declined from 2% in early July to a low of 1.55% last week. A move of such magnitude in such a short period of time has few historical precedents.

The financial sector has had a very strong correlation with the direction of US treasury yields for several years and has begun to perk up as rates have stabilized. As for technology, the sector's valuation premium is now well above its historical average reflecting structural growth tailwinds that are now widely appreciated. All this means that it may be time to re-evaluate small cap allocations."
Photo Credit: Edna Winti via Flickr Creative Commons