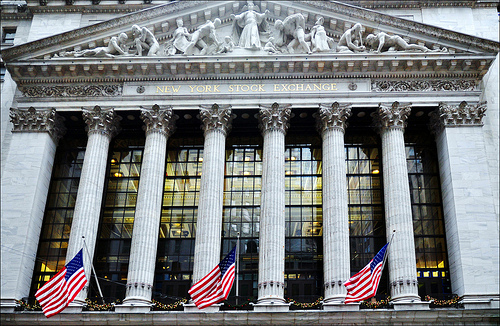 Investors waiting for a market pullback to buy U.S. stocks during this year's low-volatility grind higher may finally get their chance in 2014. But be careful what you wish for.
With less than a month left in 2013, it's been a great year for equities. The S&P 500 is up 28% for 2013, and volatility as measured by the VIX is subdued. Meanwhile, the number of bearish advisers is at the lowest level since 1987.
In short, investors may be too complacent after such a strong year in U.S. stocks, with every shallow dip being bought. For contrarian investors, the low number of bears suggests the market is ripe for a steeper correction.
In fact, there are signs this week more investors are getting nervous. The VIX was rising for the seventh straight session on Wednesday. The volatility index, known as Wall Street's fear gauge, may be trying to break out of the low range its been stuck in since mid-October.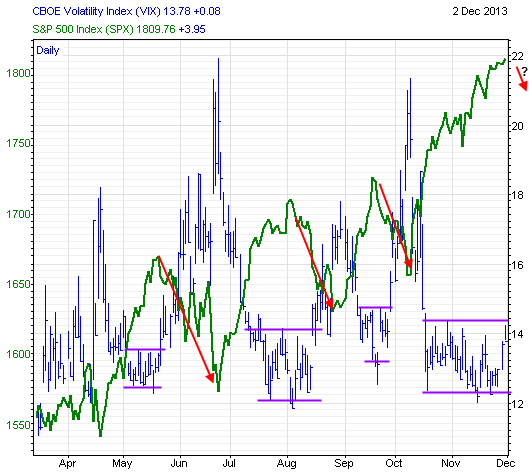 Chart source: Investors Intelligence
The VIX is above 15 for the first time in nearly two months. Its historical average is around 19.
"Yes, the VIX is tied at the hip to near term historical volatility, which is also quite low. But by any measure investors and options traders clearly feel they have this market dialed in and all that's left is to keep pulling the trigger," ConvergEx Group said in a note this week.
Central banks have helped keep credit markets loose and U.S. stocks have a lot of momentum, but volatility looks unjustifiably low, says Russ Koesterich, chief investment for BlackRock. Investors may be ignoring political risks such as another looming budget fight in January, and economic fallout from the Affordable Care Act, he added.
Fund manager T. Rowe Price this week warned that investors should brace for a correction sometime next year. "Be careful," said Bill Stromberg, the firm's head of U.S. equity. "Stocks could suffer a non-recession-related correction. Prepare for it. It could be 5%, 10%, 15% or near 20%."
However, that doesn't mean the S&P 500 can't deliver another year of solid gains in 2014. There are several reasons to be optimistic about next year, such as solid corporate profits and a still-accommodative Federal Reserve.
Investors would be mistaken to expect another 30% gain in 2014, but history does tell us that "good" years typically follow "great" ones, says Sam Stovall, chief equity strategist at S&P Capital IQ. According to Stovall:
Since 1945, there have been 21 times that the S&P 500 gained more than 20%. In the following year, the S&P 500 recorded an average increase of 10% … In addition, these "good" years recorded a positive performance 78% of the time … This subsequent "good" year was not achieved without challenges, however. Indeed, during 10 of these 21 "good" years, the S&P 500 declined a minimum of 6.2% and as much as 19.3%, while still registering a positive performance for the entire year.
Of course, past performance does not guarantee future results, as they say. The bottom line is that history suggests 2014 could be a decent year for U.S. stock investors, but they might want to be ready for, or at least psychologically prepared for, a significant correction at some point.
Photo Credit: George Rex

Disclaimer:  The information in this material is not intended to be personalized financial advice and should not be solely relied on for making financial decisions.  All investments involve risk and various investment strategies will not always be profitable.  Past performance does not guarantee future results.