Samsung capped an impressive year 2012 with record smartphone sales in the fourth quarter. The Korean company shipped 63.7 million smartphones during the holiday quarter, outselling its biggest rival Apple (AAPL) by more than 15 million units. Samsung's strong line-up of high-end and budget smartphones has helped the company to increase shipments by 76 percent over last year's fourth quarter.
Apple sold 47.8 million smartphones, cementing its status as the second largest vendor. With an increase of 29 percent, the Cupertino-based company saw the lowest relative growth among the top 5 vendors though, a testament to the stronger competition from company's such as Sony, Huawei and ZTE. The latter two, both Chinese manufacturers, entered the top 5 as the Chinese smartphone market continues to grow rapidly.
Overall, smartphone demand remains strong as overall shipments in the fourth quarter rose 36 percent to a total of 219 million units.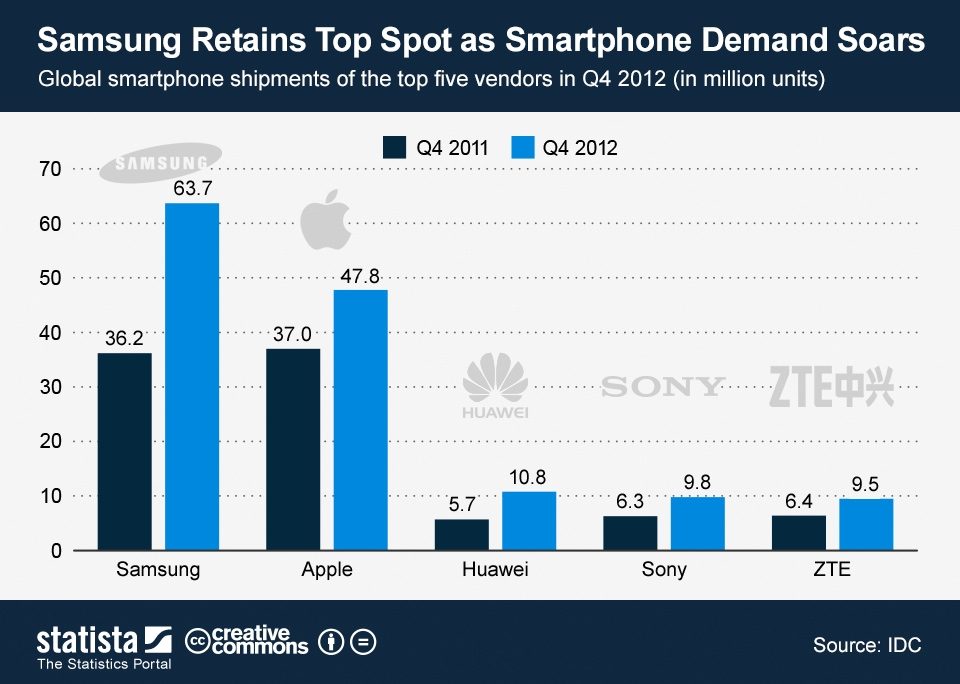 Statista Inc. is the leading statistics company on the internet. With a team of over 60 statisticians, database experts, analysts, and editors, Statista provides users with an innovative and intuitive tool for researching quantitative data, statistics and related information on www.statista.com.