By: Gerald Sparrow President & Founder, Sparrow Capital Management, Inc.
In my opinion, we're entering a tricky time of year: September and October have a reputation for bringing an extra measure of market volatility.
Some of the stock market's most challenging events have hit in September and October, and other seasonal trends can also play a part. Investopedia found that institutions start preparing for year-end distributions around this time. Plus, individuals tend to reposition their portfolios after the summer months.
This chart shows the average weekly S&P 500 performance since 1923. I've highlighted September and October so you can see how they compare to the rest of the year.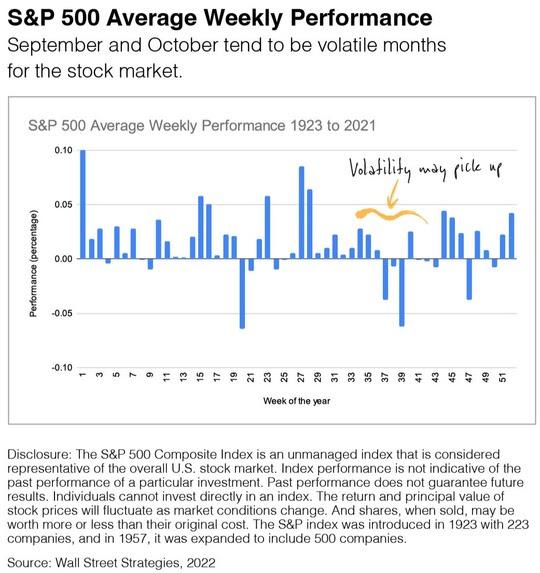 So what's an investor to do? Just be prepared to roll with an uptick in volatility, and don't let seasonal trading influence your overall strategy.
PHOTO CREDIT:https://www.shutterstock.com/g/Rudzhan
Via SHUTTERSTOCK
DISCLOSURE

Investing involves risk, including the possible loss of principal. Diversification does not ensure a profit nor guarantee against a loss.
Investors cannot invest directly into indexes. The Standard and Poor's 500, or simply the S&P 500, is a stock market index tracking the stock performance of 500 large companies listed on exchanges in the United States
This material represents an assessment of the market environment at a specific point in time and is not intended to be a forecast of future events, or a guarantee of future results. This information is not intended to be individual or personalized investment or tax advice and should not be used for trading purposes. Please consult a financial advisor or tax professional for more information regarding your investment and/or tax situation.