By Steve Sosnick, Chief Strategist at Interactive Brokers
As you undoubtedly know by now, Russia began its invasion of Ukraine Although the world is certainly more chaotic than it was earlier this week, the questions for investors are how the geopolitical events and movements in commodities will affect their investments, and to what extent those effects have been already discounted into prices.

We've all heard the phrase "buy the rumor, sell the news"; it's inverse, "sell the rumor, buy the news", often applies in nervous markets. It is quite possible we are now in one of those moments.

Global markets reacted predictably to the news, with equity markets selling off and with safe havens like US Treasuries and gold (not "digital gold", mind you) moving higher.

Last week, European and North American equities moved off their lows. In fact, the NASDAQ 100 Index (NDX) was already back to a marginal increase after opening over 3% lower, with leadership shown by companies that are software, not raw material, based. Four out of five of the so-called FAANG stocks (FB, AMZN, NFLX, GOOG) and Microsoft moved up.

Bear in mind what we discussed recently, when we noted that VIX futures were "… telling us that traders are nervous, but not necessarily climatically so."

Our rationale was that while the curve was in backwardation, it was not as steeply sloping as it can be during true moments of panic.

Even though VIX futures are higher across the board and the curve has further steepened, neither the spot level nor the curve are yet demonstrating panic, as the graph below shows: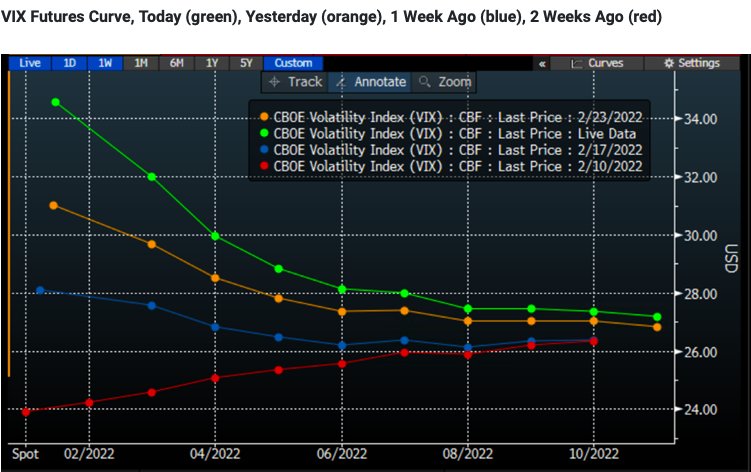 Source: Bloomberg

True Panic

Admittedly this is a qualitative assertion, though I base it upon over two decades experience as a professional options trader. Over that time period, one learns to spot moments of true panic – when traders demand volatility protection at any price – and this is not yet one of them.
Bear in mind also that whether or not today proves to be a "buy the news" event, a simple "buy the dip" opportunity, this could also be just another hiccup in a year dominated by inflation talk and central bank reactions.

The Ukraine situation is indeed an exogenous event, and one that investors have properly discounted, but remember that this is also an inflation inducing event at a time when markets were already reeling from inflation fears.

To that end, I reiterate the conclusion that we expressed recently "I interpret the message of the market to be that we should continue to expect volatility – remember that volatility encompasses moves in both directions – but not to expect that a major bottom was put into place in recent sessions."

This post first appeared on February 24 on the Traders' Insight blog.

Photo Credit: Francisco Anzola via Flickr Creative Commons

DISCLOSURE: INTERACTIVE BROKERS
The analysis in this material is provided for information only and is not and should not be construed as an offer to sell or the solicitation of an offer to buy any security. To the extent that this material discusses general market activity, industry or sector trends or other broad-based economic or political conditions, it should not be construed as research or investment advice. To the extent that it includes references to specific securities, commodities, currencies, or other instruments, those references do not constitute a recommendation by IBKR to buy, sell or hold such investments. This material does not and is not intended to take into account the particular financial conditions, investment objectives or requirements of individual customers. Before acting on this material, you should consider whether it is suitable for your particular circumstances and, as necessary, seek professional advice.
The views and opinions expressed herein are those of the author and do not necessarily reflect the views of Interactive Brokers LLC, its affiliates, or its employees.
Any trading symbols displayed are for illustrative purposes only and are not intended to portray recommendations.
In accordance with EU regulation: The statements in this document shall not be considered as an objective or independent explanation of the matters. Please note that this document (a) has not been prepared in accordance with legal requirements designed to promote the independence of investment research, and (b) is not subject to any prohibition on dealing ahead of the dissemination or publication of investment research.
DISCLOSURE: FUTURES TRADING
Futures are not suitable for all investors. The amount you may lose may be greater than your initial investment. Before trading futures, please read the CFTC Risk Disclosure. A copy and additional information are available at ibkr.com.