By Colin Subtil, sovereign climate analyst, and Nicolas Lancesseur, head of global climate research at Beyond Ratings
President Biden's international summit on climate marked the comeback of the United States to the Paris Agreement after the withdrawal by the previous US administration. A more ambitious US climate commitment was announced on this occasion, consisting in halving greenhouse gas emissions by 2030 from the 2005 level.
The Paris Agreement is based on an iterative process. While ratifying the agreement, countries submitted a first commitment to reduce greenhouse gas emissions via a "Nationally Determined Contribution" (NDC). Every five years, after a general review, countries will revise their commitment and submit a new NDC.
Prior to the UN Climate Change Conference, COP26, in November 2021[1], countries must revise their NDC for the first time. This is a decisive test for the agreement and its ability to make countries converge towards the long-term objective of keeping the rise in global temperature to well below 2 C.

Ambitious Agenda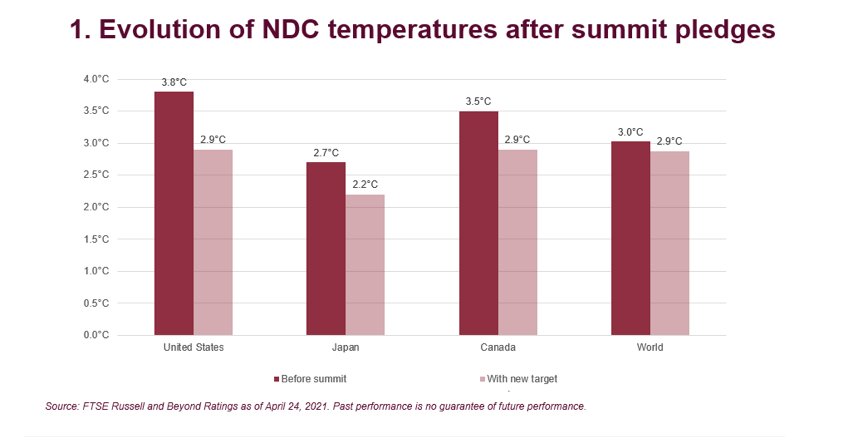 In addition to the United States, Japan and Canada also made an announcement on higher NDC's ambition during the recent summit. The additional efforts committed by these countries are significant. According to our sovereign temperature methodology[2], Japan would get closer to a 2°C alignment (see Figure 1). Despite US and Canada announcements, the 2.9°C implied temperature for the US and Canada remains high, reflecting the very strong carbon intensity of their economies. For instance, if the US reaches its new NDC target, its level of emissions per capita in 2030 would be still higher than the 2019 level in the European Union.
Although the main objective of the US-led summit was to galvanize the NDCs revision process prior to COP26, the result on the overall implied temperature is quite limited, decreasing from 3°C to 2.9°C. It is important that the collective efforts to reduce emissions improve significantly in the next months and during COP26.
Being in line with this new commitment will be challenging for the US. The economy should be reshaped accordingly. President Biden has already unveiled, in the beginning of April, a US$ 2trn infrastructure spending package designed both to recover from the COVID-19 recession and to significantly reduce greenhouse gas emissions.

Green Economy
The plan, which is still negotiated in the Congress, grants a large part to the green economy. Investments in the grid, as well as tax credits to support renewable energy development, will help make the electricity system carbon neutral by 2035—as promised by candidate Biden. The electric vehicles sector is also expected to be among the main beneficiaries (US$ 174 billion allocated on charging stations alone). Investments will certainly surge in these fields and last over years, considering the research funding associated with the plan.
Regarding power generation, FERC forecasts are aligned with carbon neutrality trends even without new regulation. After 22 GW commissioned each year between 2015 and 2019, the expected 212 GW net increase in renewable energy generation capacity for the next three years is consistent with the required 70 GW/year to meet carbon neutrality by 2035. The reverse trend for fossil energies is striking.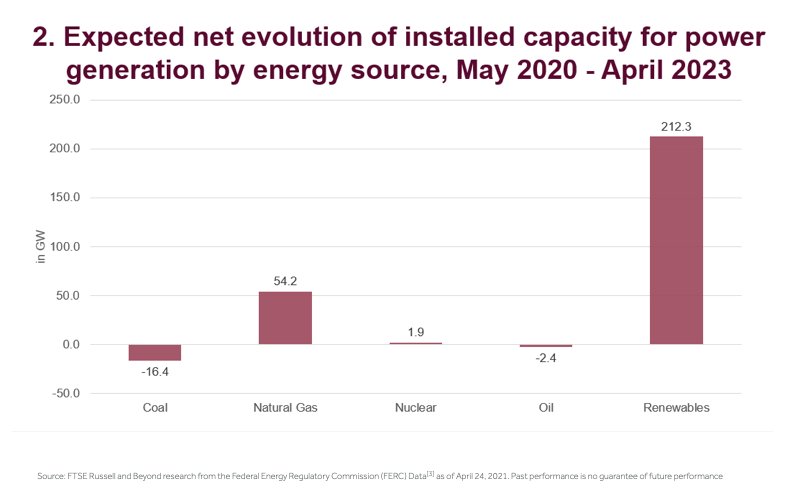 Source: FTSE Russell and Beyond research from the Federal Energy Regulatory Commission (FERC) Data[3] as of April 24, 2021. Past performance is no guarantee of future performance
Despite limited federal incentives under the previous US administration, the US green economy has recently grown quickly, as we have described previously. In addition to improving cost-competitiveness of low-carbon technologies and policy support at the State level, the green economy was also reinforced by the increasing appetite for sustainable investments on market development.

The launch in April of the BlackRock US Carbon Transition Readiness (the biggest launch in the ETF market history, with US$1.25 billion raised on the first day) is a new illustration of this dynamics. The Biden administration can build on this momentum and should accelerate the pace with appropriate incentives.
The US is back in the Paris Agreement and becomes again a key player to drive global action. During the absence of the US on the international scene, momentum was kept internally by businesses, investors, local authorities[4] and, above all, technological progress. The pledge announced during the April summit is a confirmation of the coming acceleration on domestic climate action. This could make irreversible the spontaneous current dynamics towards a carbon neutral economy. Every investor should be prepared for the massive reallocation of capital these transformations would imply.
This post first appeared on April 30 on the FTSE-Russell blog.

Photo Credit: Beth Scupham via Flickr Creative Commons


FOOTNOTES
[1] Initially scheduled in December 2020 but postponed due to the Covid-19 pandemic.
[2] How to measure the temperature of sovereign assets | FTSE Russell.
[3] apr-energy-infrastructure-2020.pdf (ferc.gov)
[4] See the « We are still in » initiative https://www.wearestillin.com/we-are-still-declaration
© 2021 London Stock Exchange Group plc and its applicable group undertakings (the "LSE Group"). The LSE Group includes (1) FTSE International Limited ("FTSE"), (2) Frank Russell Company ("Russell"), (3) FTSE Global Debt Capital Markets Inc. and FTSE Global Debt Capital Markets Limited (together, "FTSE Canada"), (4) MTSNext Limited ("MTSNext"), (5) Mergent, Inc. ("Mergent"), (6) FTSE Fixed Income LLC ("FTSE FI"), (7) The Yield Book Inc ("YB") and (8) Beyond Ratings S.A.S. ("BR"). All rights reserved.
FTSE Russell® is a trading name of FTSE, Russell, FTSE Canada, MTSNext, Mergent, FTSE FI, YB and BR. "FTSE®", "Russell®", "FTSE Russell®", "MTS®", "FTSE4Good®", "ICB®", "Mergent®", "The Yield Book®", "Beyond Ratings®" and all other trademarks and service marks used herein (whether registered or unregistered) are trademarks and/or service marks owned or licensed by the applicable member of the LSE Group or their respective licensors and are owned, or used under licence, by FTSE, Russell, MTSNext, FTSE Canada, Mergent, FTSE FI, YB or BR. FTSE International Limited is authorised and regulated by the Financial Conduct Authority as a benchmark administrator.
All information is provided for information purposes only. All information and data contained in this publication is obtained by the LSE Group, from sources believed by it to be accurate and reliable. Because of the possibility of human and mechanical error as well as other factors, however, such information and data is provided "as is" without warranty of any kind. No member of the LSE Group nor their respective directors, officers, employees, partners or licensors make any claim, prediction, warranty or representation whatsoever, expressly or impliedly, either as to the accuracy, timeliness, completeness, merchantability of any information or of results to be obtained from the use of FTSE Russell products, including but not limited to indexes, data and analytics, or the fitness or suitability of the FTSE Russell products for any particular purpose to which they might be put. Any representation of historical data accessible through FTSE Russell products is provided for information purposes only and is not a reliable indicator of future performance.
No responsibility or liability can be accepted by any member of the LSE Group nor their respective directors, officers, employees, partners or licensors for (a) any loss or damage in whole or in part caused by, resulting from, or relating to any error (negligent or otherwise) or other circumstance involved in procuring, collecting, compiling, interpreting, analysing, editing, transcribing, transmitting, communicating or delivering any such information or data or from use of this document or links to this document or (b) any direct, indirect, special, consequential or incidental damages whatsoever, even if any member of the LSE Group is advised in advance of the possibility of such damages, resulting from the use of, or inability to use, such information.
No member of the LSE Group nor their respective directors, officers, employees, partners or licensors provide investment advice and nothing contained in this document or accessible through FTSE Russell Indexes, including statistical data and industry reports, should be taken as constituting financial or investment advice or a financial promotion.
Past performance is no guarantee of future results. Charts and graphs are provided for illustrative purposes only. Index returns shown may not represent the results of the actual trading of investable assets. Certain returns shown may reflect back-tested performance. All performance presented prior to the index inception date is back-tested performance. Back-tested performance is not actual performance, but is hypothetical. The back-test calculations are based on the same methodology that was in effect when the index was officially launched. However, back- tested data may reflect the application of the index methodology with the benefit of hindsight, and the historic calculations of an index may change from month to month based on revisions to the underlying economic data used in the calculation of the index.
This publication may contain forward-looking assessments. These are based upon a number of assumptions concerning future conditions that ultimately may prove to be inaccurate. Such forward-looking assessments are subject to risks and uncertainties and may be affected by various factors that may cause actual results to differ materially. No member of the LSE Group nor their licensors assume any duty to and do not undertake to update forward-looking assessments.
No part of this information may be reproduced, stored in a retrieval system or transmitted in any form or by any means, electronic, mechanical, photocopying, recording or otherwise, without prior written permission of the applicable member of the LSE Group. Use and distribution of the LSE Group data requires a licence from FTSE, Russell, FTSE Canada, MTSNext, Mergent, FTSE FI, YB and/or their respective licensors.