By Kevin Flanagan, Head of Fixed Income Strategy

Last week, Treasury Secretary Janet Yellen seemed to forget for a moment that she was in a new role—one that does not set monetary policy. Against that backdrop, let's just say Secretary Yellen got her first mulligan.
As a reminder, Yellen said that "it may be that interest rates will have to rise somewhat to make sure our economy doesn't overheat," but she quickly pivoted away from that statement later on. The background on Secretary Yellen's initial comment is that she was asked if the current, and proposed, spending from the Biden administration could create a setting where inflation could need to be reined in.
There is no question the inflation debate is currently gaining momentum in the markets, specifically the fixed income arena. Is inflation looming on the horizon, and will any potential increase prove to be "transitory," as the Federal Reserve (Fed) believes, or will it be more sustainable? In fact, it appears as if the trend has already begun as April year/year CPI posted its highest reading since 2008 1. At this stage, there appear to be four undeniable factors that should push inflation higher in the months ahead:
Base effects—i.e., year-over-year readings will be compared to very low readings from 2020
Higher commodity prices
Disruptions in supply chains and low inventories
Pent-up demand from COVID-19-related reopenings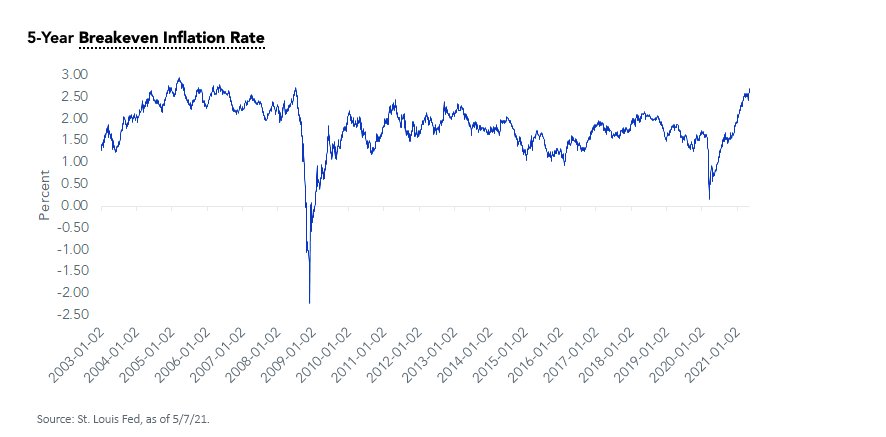 So, who is right in this inflation debate? I like to take my cues from the bond market, and as you can see, inflation expectations have been on a rather visible ascending trajectory. Looking at Treasury five-year breakeven spreads, the latest reading of roughly 2.70% has now gone back into territory that is rarely visited…in other words between 2.50% and 3.00%. In fact, as of this writing, the last time the breakeven rate was this high was back in the pre-financial crisis days of 2006.
Conclusion
Against this backdrop, we continue to recommend solutions which are designed to mitigate the effects of potential higher inflation, namely higher interest rates. Oftentimes, investors gravitate toward Treasury Inflation-Protected Securities (TIPS) in this type of scenario, but it is important to keep in mind that TIPS tend to have a longer duration aspect to them.
Our preferred U.S. Treasury-based approach is the Treasury Floating Rate Note (UST FRN) Strategy. These instruments are issued with two-year maturities, are offered monthly and essentially have very little in the way of duration because the interest rate is reset every week with the three-month t-bill auction. Investors may access this strategy through the WisdomTree Floating Rate Treasury Fund (USFR).

This post first appeared on May 12 on the WisdomTree blog

Photo Credit: Nicolas Raymond via Flickr Creative Commons
FOOTNOTES
1Bureau of Labor Statistics as of May 12, 2021
Important Risks Related to this Article
There are risks associated with investing, including possible loss of principal. Securities with floating rates can be less sensitive to interest rate changes than securities with fixed interest rates, but may decline in value. The issuance of floating rate notes by the U.S. Treasury is new and the amount of supply will be limited. Fixed income securities will normally decline in value as interest rates rise. The value of an investment in the Fund may change quickly and without warning in response to issuer or counterparty defaults and changes in the credit ratings of the Fund's portfolio investments. Due to the investment strategy of this Fund, it may make higher capital gain distributions than other ETFs. Please read the Fund's prospectus for specific details regarding the Fund's risk profile.