by Michael Tarsala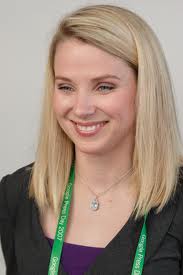 Now here's an insider to watch.
Activist hedge fund manager Dan Loeb at Third Point just bought another 2.5 million Yahoo shares this week, upping his stake to a total of 73 million.
He now owns about 6% of Yahoo shares, and sits on Yahoo's board – his prize for threatening a proxy battle against the company.
Most notably, Loeb was the key director in luring former Google hotshot Marissa Mayer to become Yahoo's CEO.
Next up: Perhaps Mayer herself would send a signal buy buying shares on the open market?
Here's what Barry Randall of the Crabtree Technology investment model had to say about that subject:
There can be little doubt that Ms. Mayer's selection was made with the explicit blessing of activist Yahoo shareholder Dan Loeb of Third Point LLC.

Mayer's product-oriented experience at Google, contrasts sharply with interim CEO Ross Levinsohn's content-focused CV. This strongly suggests that Mr. Loeb, owner of 6% of Yahoo's common, and the newly constituted board of directors sees Yahoo's focus to be on engaging and enlarging its substantial user base. This will probably mean a steady stream of new and innovative products and services, rather than more media or content deals.

It's worth mentioning here that thanks to being Google employee #20, Marissa Mayer has amassed a net worth of $300 million. (Her new $100 million, five-year pay package at Yahoo isn't too shabby, either.) Anyone with $300 million in the bank who still feels compelled to take on a challenge as daunting as leading Yahoo rather than retiring to a life of pampered leisure is clearly driven by larger forces.

And this is why Mayer should buy $100 million of Yahoo stock in the open market.

If Mayer is going to acquire hot start-ups and recruit superstars to join her in this battle, she has to be "all in" or nearly so.

One of the common themes surrounding her hiring is that she can't lose. If she wins, she's achieved what her high-profile predecessors couldn't; if she loses – well, it's Yahoo.

But putting $100 million down in the middle of the table is saying she can lose. A lot. And that attitude and commitment will attract the right kind of talent.