Looks like stock investors have regained their appetite for risk.
For much of 2016, investors have favored dividend-rich, less volatile sectors like utilities and telecoms.
However, as the Wall Street Journal points out, investors shifted to riskier sectors such as tech in the third quarter.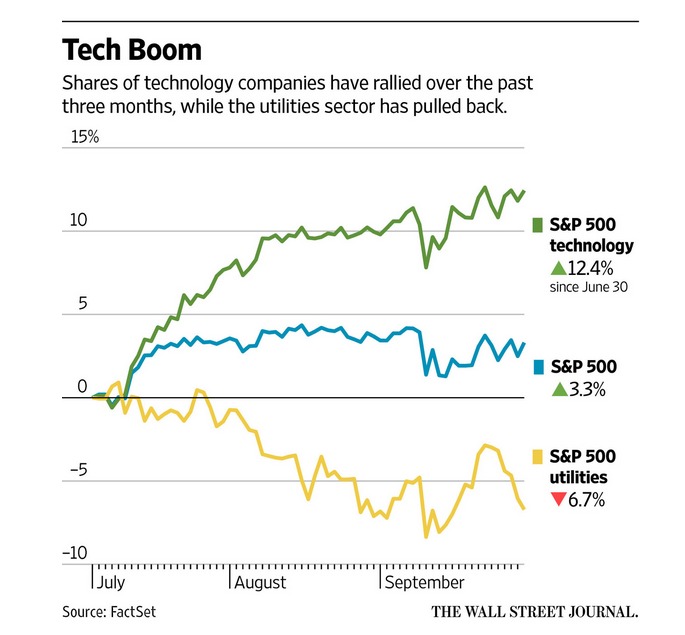 Apple Bounce
Tech bellwether stock Apple (AAPL) has pulled off a nice rally since July, thanks to better-than-expected iPhone 7 sales.
Twitter (TWTR) shares, meanwhile, have gyrated on conflicting speculation that Google (GOOG) might buy the micro-blogging service.
Dividend Plays
Once-white hot dividend stocks have wilted over the last nine trading sessions through October 5.
The S&P Utilities sector has dropped more than 7% in the  last nine trading days through October 5.
Real-estate shares, a favorite among dividend-seeking investors, have fallen about 7% over the same time frame.
Weak Earnings
The risk-on trend flies in the face of warnings from stock market skeptics about the outlook for corporate earnings and relatively high stock valuations.
S&P 500 profits are forecast to drop 1.4 percent in the July-September period when the results are reported in coming weeks. If so, that would make the sixth straight quarterly retreat.
Pricey Valuations
At the same time, the S&P 500 Index trailing price-to-earnings (P/E) ratio is clocking in at 24.45 as of October 5.
That's up about 20% over the year-ago level.
Or consider the Shiller P/E ratiofor the S&P 500, based on average inflation-adjusted earnings from the previous 10 years.
That reading is hovering around 27. That's 80% above the level in 2009 at the start of the current bull market.
Takeaway
The current seven-year plus bull market is anything if not resilient.
US stock prices have continued to bound from strength to strength despite predictions in recent years from skeptics that the rally would soon run off the rails.
For now, stock investors seem willing to be embrace a bit more risk when it comes to their stock portfolios.
Photo Credit: Roanish via Flickr Creative Commons