By: Gerald Sparrow, President & Founder, Sparrow Capital Management, Inc
Believe me, everyone on Wall Street wants inflation to go away, or at least shrink back to below 2%, a level we enjoyed not so long ago.
But Tuesday's Consumer Price Index report showed it might be some time before we see 2% again. Consumer prices ticked slightly lower in August, but not as much as what Wall Street wanted. Economists, pointing out that gasoline prices dropped in the past month, made bold predictions for August inflation. Too bold, as it turned out.
Stocks got clobbered, and bonds didn't fare much better. The inflation report showed that higher food, shelter, and medical services costs were to blame. Higher costs in those areas indicate inflation could be more persistent and entrenched than we thought.1
So now the question is, "What will the Fed do at its upcoming meeting?" In the chart below, the green highlights show the most likely outcomes for the next several Fed meetings, according to the CME Group. Keep in mind that in early September, the CME's indicator said smaller increases were possible. But no more.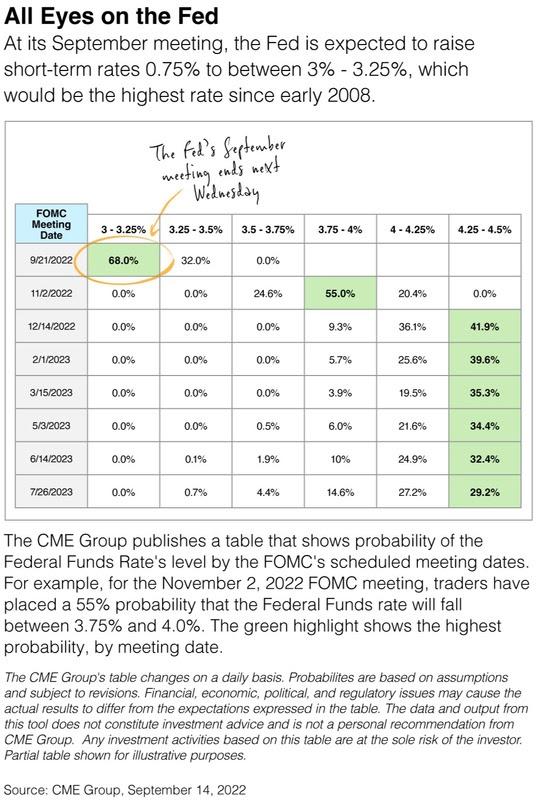 All too often this year, I haven't had great news to pass along about the markets. But I want to assure you that I'm committed to staying on top of the news in good times, bad times, and in-between times.
If Tuesday's drop raised some new concerns, please give me a call. Thanks for your trust.
1. BLS.gov, September 13, 2022
The S&P 500 Composite Index is an unmanaged index that is considered representative of the overall U.S. stock market. Index performance is not indicative of the past performance of a particular investment. Past performance does not guarantee future results. Individuals cannot invest directly in an index. The return and principal value of stock prices will fluctuate as market conditions change. And shares, when sold, may be worth more or less than their original cost.
PHOTO CREDIT: https://www.shutterstock.com/g/Pcess609
Via SHUTTERSTOCK
DISCLOSURE

Investing involves risk, including the possible loss of principal. Diversification does not ensure a profit nor guarantee against a loss. 
Investors cannot invest directly into indexes. The Standard and Poor's 500, or simply the S&P 500, is a stock market index tracking the stock performance of 500 large companies listed on exchanges in the United States
This material represents an assessment of the market environment at a specific point in time and is not intended to be a forecast of future events, or a guarantee of future results. This information is not intended to be individual or personalized investment or tax advice and should not be used for trading purposes. Please consult a financial advisor or tax professional for more information regarding your investment and/or tax situation.