The global pandemic of coronavirus has sent financial markets reeling, with historic swings in either direction.

As governments resort to lock downs, economies stall and corporations scramble for credit, stock markets broadly speaking have taken a hit. A historic, 11-year stock rally in the US also came to an abrupt end.

As of March 24, the Russell 3,000 is currently down about 35% from its February 19th high. The S&P 500 is off 15%, while the Dow Jones Industrial Average and Nasdaq Composite are down, 18% and 7.5%, respectively.

Green Shoots

Yet amid the carnage, some stocks are on a tear. Bespoke Investment Group pulled together two charts that tell the story.

Some healthcare stocks have done quite well. As Bespoke notes: Tocagen (TOCA) and Vir Biotechnology (VIR) have doubled in price since the record market high of Feb. 19. On top of that, some 16 other stocks have seen double digit percentage gains over that period.
More broadly, defensive stocks have done well too, led by consumer staples and consumer discretionary plays. Among them are Waitr (WTRH), Domino's Pizza (DPZ) and Clorox (CLX).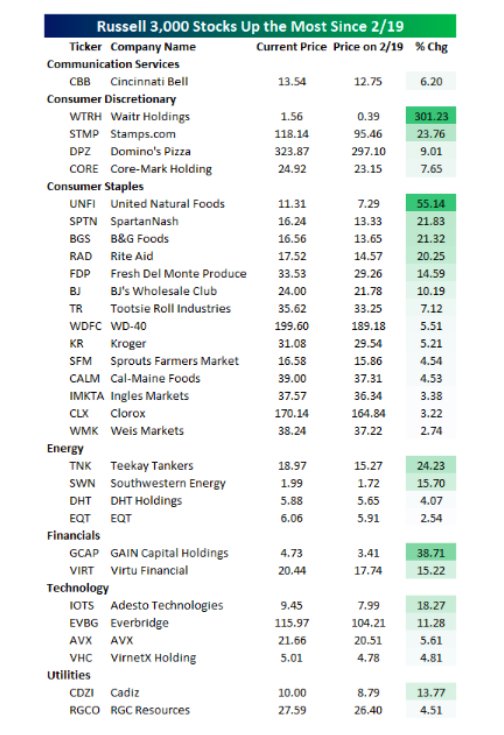 Takeaway

Markets are volatile and it pays to be cautious and consult with your financial advisor about any major portfolio adjustments.

Yet even in a bear market, in my view opportunities can present themselves to the discerning investor.
Photo Credit: Grant Beedie via Flickr Creative Commons