Jeremy Schwartz, CFA, Executive Vice President, Global Head of Research Kara Marciscano, CFA, Research Analyst
We recently hosted Nick Johnson, principal at Applico and co-author of the Amazon bestseller Modern Monopolies, on our Behind the Markets podcast to discuss the latest on platform businesses.
Platform businesses operate in a nonlinear, multi-sided model that creates value by facilitating interactions between two or more interdependent groups. While traditional business models are based on a linear supply chain (e.g., Chipotle's assembly-line food production, where the customer participates at the end of the supply chain), the platform business model is an asset-light network of connections (e.g., GrubHub's online-food ordering connects diners with restaurants).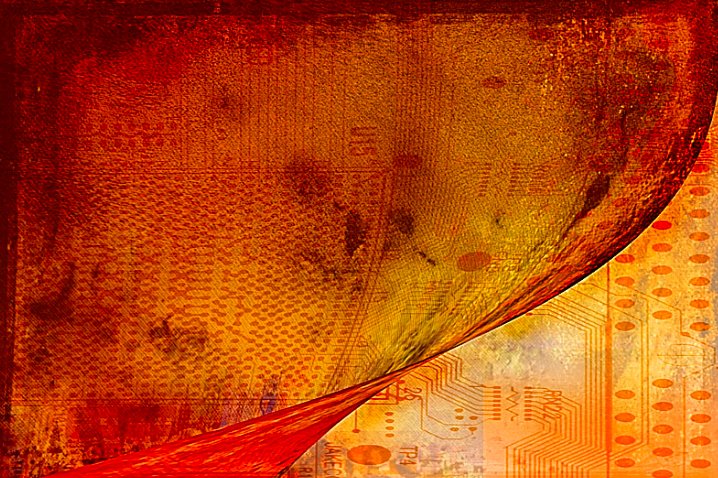 Instead of owning a means of production, platform-based businesses own the means of connection, and this key distinction is apparent in their financial statements:
Balance Sheet – Lower Inventory, Property, Plant and Equipment; Higher Cash
Platform businesses like GrubHub do not hold a Chipotle burrito as inventory or own the storefronts where they are produced.Inventory, as well as property, plant and equipment (PP&E), constitutes a significantly lower proportion of a platform business' total assets; meanwhile, cash as a percentage of total assets is roughly 3x greater for a platform company relative to the S&P 500 Index.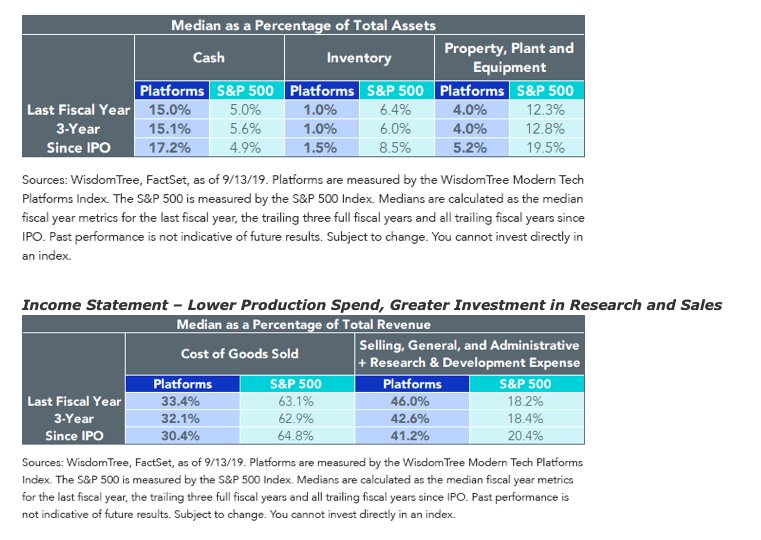 More Marketing Expenses
Platform businesses spend more on user acquisition and less on building up fixed assets or inventory. Expenses are mostly allocated to the technology and human capital necessary to grow and support their networks.
Nick noted platform-based businesses do not face production resource constraints, unlike linear businesses. Platforms scale beyond the capacity of a linear business because they benefit from low marginal costs and network effects:
Low to Zero Marginal Cost – Platforms incur little to no expense to facilitate a marginal connection. The cost GrubHub incurs to facilitate an additional food order is lower than the cost Chipotle incurs to prepare an additional burrito, especially if that location needs to order more rice (i.e., resource constraints) to meet demand.
Network Effects – The value of each additional network user increases over time as the network expands. As more restaurants join GrubHub's network, the value of the network increases for the consumer because he/she has more choice, and vice versa, as the number of consumers on GrubHub's network increases, the value to producers increases because they have a greater number of potential customers.
Importantly, the structural advantages that allow platform-based businesses to profitably scale are reflected in stronger revenue growth and margins.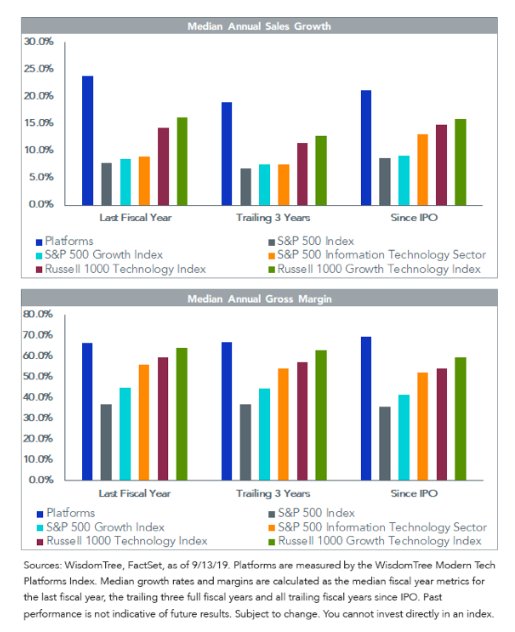 Dominant Model of 21st Century
Nick views platforms as the dominant business model of the 21st century because of their ability to expand to the total size of a market. He believes we are at the early stages (approximately 15–20 years in) of a long-term, 50-year transition toward this platform model.
Platforms are prevalent within the Communication Services, Consumer Discretionary and Information Technology sectors, but Nick is confident more disruption is coming across industries like third-party logistics, business-to-business distribution, finance and health care.
Platform opportunities have sprung up from: 1) venture capital funded startups with a platform model entering new industries, or 2) through large, existing platform businesses using their core network to enter new markets.
Looking ahead, Nick expects more opportunities in a third way: the adoption of the platform business model by linear incumbents who see disruption on the horizon.
Nick provided great insight into the strength of the platform-based business and made a very compelling case for why he believes it is the dominant business model of today and the future. Thank you to Nick for the great discussion!
Please listen to the podcast below.


Photo Credit: Barb Henry via Flickr Creative Commons