It always gets hard to start predicting the markets move, when you are in record territory and lose those support and resistance levels.

In my opinion, we do have a resistance level, at least for now, of around 2,980. In my view, that's likely where the S&P 500 may be heading soon.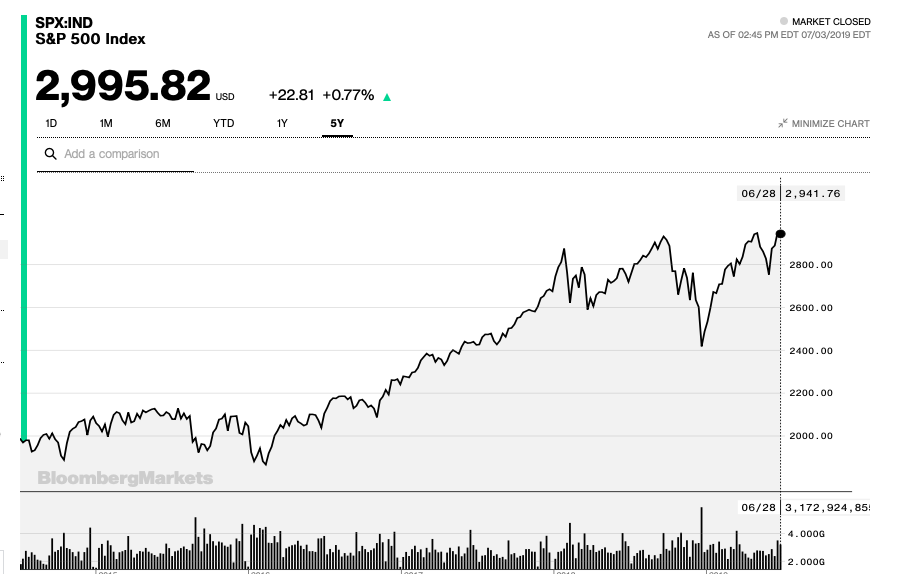 Onward to 3,300
Deep down, I feel nervous about this rally. Perhaps that's because the market has risen only 3% since January 26, 2018. Pretty pathetic. Call it a sideways consolidation if you will.
If the S&P 500 fails to advance meaningfully from its current levels, I think people will start calling this a market top.

That will pull in more negative sentiment.
Rally History

However, we have seen this story before in 2011, 2015, and now. Each period of consolidation was about one and a half years long.

The break out in 2011, led to a 56% rally. Meanwhile, the one in 2016 was followed by gains of nearly 40%.
Should we see another break out, we could rise to roughly 3,300. I had been looking for 3,200 but have since revised that higher.

That would be an increase, believe it or not, of just 10%. The index would push higher to a resistance level at the long-term uptrend, which has been in place since April 2012.
Takeaway

From there I would need to re-assess, but calling a 10% in advance in the S&P is not as easy as you'd think.
I talked about it much more in this video. I also got into the dividend yield and multiple expansion tantrum. The Race To S&P 500 3,300 Is On!
Believe it or not even at 3,300, the S&P 500 would be trading at just 18 times my 2020 S&P 500 earnings estimates of $183.18 per share.

Photo Credit: bayassa via Flickr Creative Commons
Disclosure: Certain of the information contained in this article is based upon forward-looking statements, information and opinions, including descriptions of anticipated market changes and expectations of future activity. Interactive Advisors believes that such statements, information, and opinions are based upon reasonable estimates and assumptions. However, forward-looking statements, information and opinions are inherently uncertain and actual events or results may differ materially from those reflected in the forward-looking statements. Therefore, undue reliance should not be placed on such forward-looking statements, information and opinions.