I wanted to start with some thoughts on tariffs. I do believe they're having some effect on global growth.
In my opinion, the good news is that over the longer-term the effect of the tariffs may be a one-time event.
That is to say that, once the "taxes" on traded goods are put into place, the prices on items will rise as a result.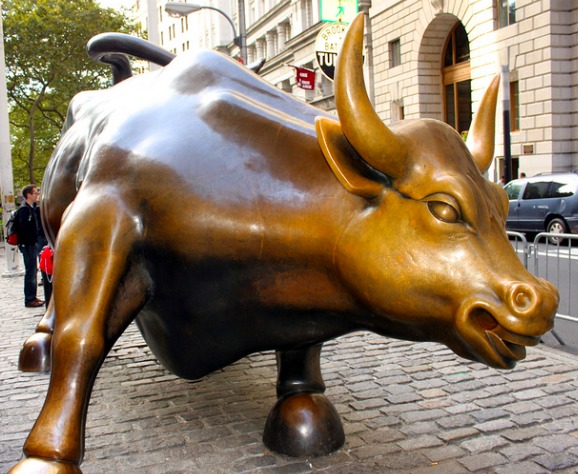 Earnings Hit

Once that rise happens, it is over in my opinion.

True, it may result in some company posting bad or troubling results for a couple of quarters compared to 2018. But after that, in my view, the effects of the tariff will basically "normalize."  

It is no different from the tax cuts we got earlier this year. The tax cuts led to significant earnings growth in 2018.
In 2019, those results will normalize. Do I think short-term the tariffs are disruptive? Sure. But over the longer-term, the effects of the taxes should normalize.  
Rally Looming?
Maybe I'm looking at this in the wrong way, but those are my opinions. You can agree or disagree.
The stock market rallied some last week, but in my opinion much work needs to be done over the near-term to sustain the rally.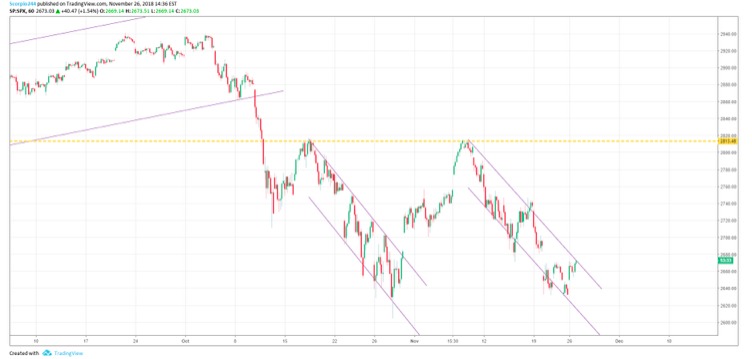 In my view, the recent sell-off in November is similar to the market downturn a month earlier, from October 11 to October 29.

Momentum Indicator
We can see in the next chart below that the two trading periods resemble each other, peaking around 2813 followed by steep declines.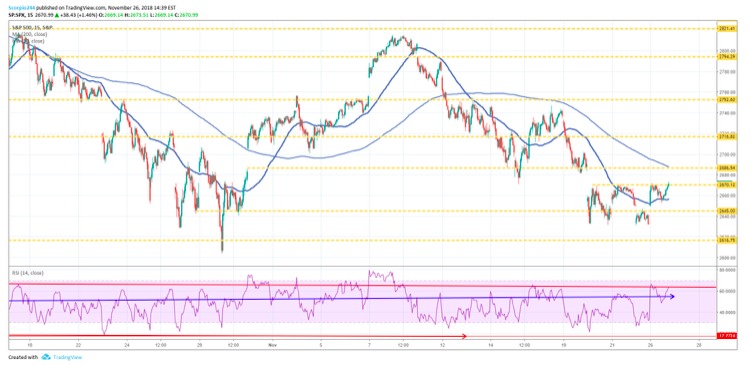 With that said, in my view the S&P 500 might be on its way higher should it rise above technical resistance around 2,675.

The next level of resistance comes around 2,686, according to my analysis. But the level of more significant interest, in my opinion, is 2,720, roughly 2% higher than current levels as of November 29.
Takeaway

That is because the Relative Strength Index (RSI), a stock market momentum indicator, is now firmly trending higher.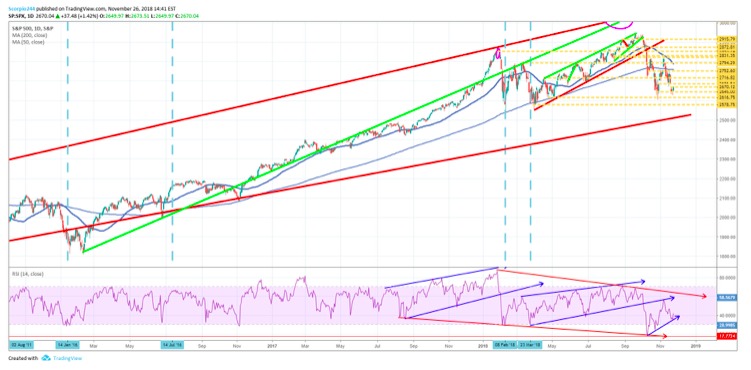 In my view, we may have hit a market bottom and set the stage for another leg up.

I want a couple of more trading days to confirm my investment thesis, but in my view there may be more bullish signs emerging.
Photo Credit: Prayitno via Flickr Creative Commons
Disclosure: Certain of the information contained in this article is based upon forward-looking statements, information and opinions, including descriptions of anticipated market changes and expectations of future activity. The author believes that such statements, information, and opinions are based upon reasonable estimates and assumptions. However, forward-looking statements, information and opinions are inherently uncertain and actual events or results may differ materially from those reflected in the forward-looking statements. Therefore, undue reliance should not be placed on such forward-looking statements, information and opinions.