By Steven Levine, Senior Market Analyst, Interactive Brokers

U.S. retail sales figures for September surprised to the downside, with food and beverage services accounting for the lion's share of the disappointment.
The U.S. Census Bureau posted a paltry 0.1% rise in September retail sales, compared to expectations for 0.6%. Food services and drinking places fell 1.8% from the prior month, followed by gas stations, which dropped 0.8% from August.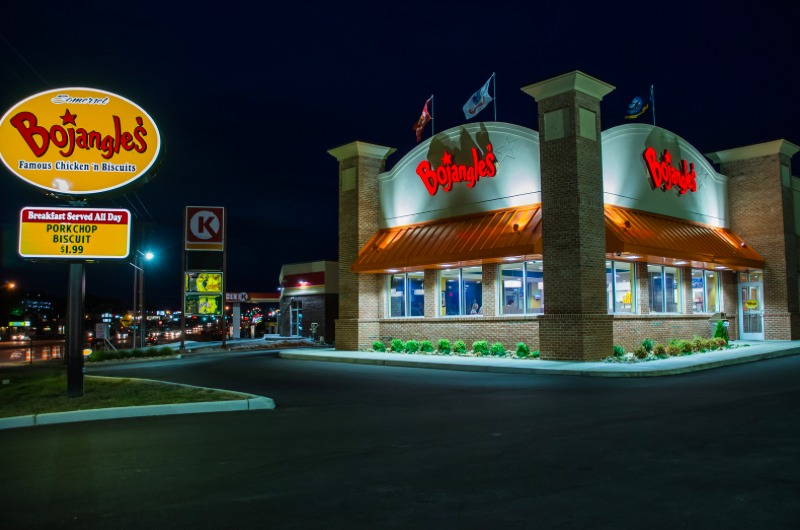 The decline in dining numbers coincides with the mid-September arrival of Hurricane Florence in the U.S. southeast – particularly in North and South Carolina.
Stock Selloff
Southern-style restaurant Bojangles (BOJA), for example, whose operations are concentrated in the southeastern U.S., saw its stock fall around 7.7% in September.
Also, shares of Carrols Restaurant Group (TAST), which primarily operates along the east coast – with a strong presence in the Carolinas – plunged roughly 9.7% over the same period.
By contrast, shareholders of other, more geographically diverse restaurant chains generally experienced far less damage.
Chipotle Mexican Grill's (CMG) stock was off by about 2.4%, McDonalds' (MCD) shares rose around 1%, and Yum! Brands (YUM) – operator of iconic U.S. fast food firms Taco Bell, KFC and Pizza Hut – climbed more than 2.6% over the same timeframe.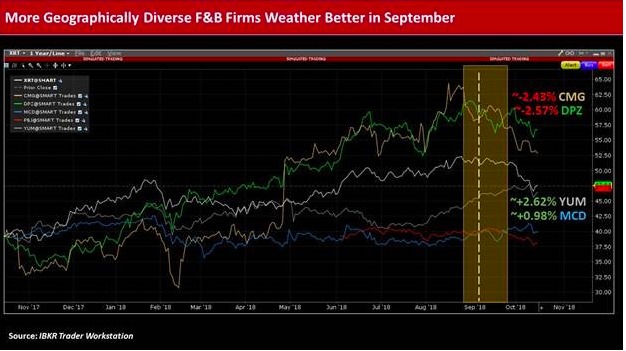 Hurricane Fallout
Meanwhile, further evidence of Hurricane Florence's likely economic fallout had shown-up in the September jobs report.
The Bureau of Labor Statistics said that prior to September, jobs in the leisure and hospitality industry had been on a "modest upward trend," and blamed some of the weakness on the potential impact from the storm. Jobs in that sector were little changed over the month at -17,000.
Jefferies money market economist Thomas Simons noted that the "striking weakness in restaurant sales begs the question of whether this is a harbinger of more weakness to come." He argues that it is not.
Simons said that even "during the worst days of the recession, this category of goods saw strong sales. Consumers will cut vacations and more expensive forms of entertainment before cutting back on the convenience and entertainment of going out to eat."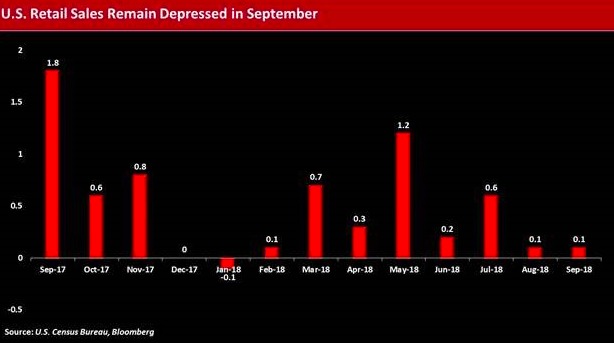 Retraced Losses
Against this backdrop, it appears likely that Hurricane Florence diverted diners to remaining indoors on a regional, temporary basis. Some of the more adversely impacted stocks appear to have retraced some of their losses since the end of September.
To date since September 24, BOJA's shares have soared more than 24%, and TAST recouped about 3%.
In my opinion, time will tell whether Hurricane Michael will pose any lingering danger to food and drink places in the October retail sales numbers.
The Florida Restaurant and Lodging Association reminded that the hurricane and its aftermath are likely to lead to challenges for operators, including workforce issues, property damage, flooding, power loss, leaks and food spoilage.
Takeover
The National Restaurant Association recently said that Hurricane Michael was "so bad that Waffle House, a restaurant chain that rarely closes and often provides food to first responders, closed 30 restaurants in Florida and Georgia" last Wednesday.
The organization noted that the chain "is known as so reliable the Federal Emergency Management Agency (FEMA) uses it to unofficially monitor which restaurants are open and how well their areas will recover from natural disasters."
The Restaurant Association continued that "it is still too early to tell what effects the storm has had on restaurant operators in both states."
Karen Bremer, president and CEO of the Georgia Restaurant Association, said Michael has affected around 1,500 restaurants in southwest Georgia, but the extent of the damage is still being determined.
Photo Credit: Mr. Blue MauMau via Flickr Creative Commons
The analysis in this material is provided for information only and is not and should not be construed as an offer to sell or the solicitation of an offer to buy any security. To the extent that this material discusses general market activity, industry or sector trends or other broad-based economic or political conditions, it should not be construed as research or investment advice. To the extent that it includes references to specific securities, commodities, currencies, or other instruments, those references do not constitute a recommendation by IBKR or IBKRAM to buy, sell or hold such investments. This material does not and is not intended to take into account the particular financial conditions, investment objectives or requirements of individual customers. Before acting on this material, you should consider whether it is suitable for your particular circumstances and, as necessary, seek professional advice.Certain of the information contained in this article is based upon forward-looking statements, information and opinions, including descriptions of anticipated market changes and expectations of future activity. The author believes that such statements, information, and opinions are based upon reasonable estimates and assumptions. However, forward-looking statements, information and opinions are inherently uncertain and actual events or results may differ materially from those reflected in the forward-looking statements. Therefore, undue reliance should not be placed on such forward-looking statements, information and opinions.