Yum! Brands' (YUM) results were broadly positive, driven mostly by success at Taco Bell.
Earnings per share (EPS) came in at 65 cents per share, about 8% higher than analysts' estimates and up 17% from last year. Yum also beat revenue estimates, though by a smaller margin.
Leading all of this was Taco Bell's exceptionally strong performance, which offset significant weakness at Pizza Hut.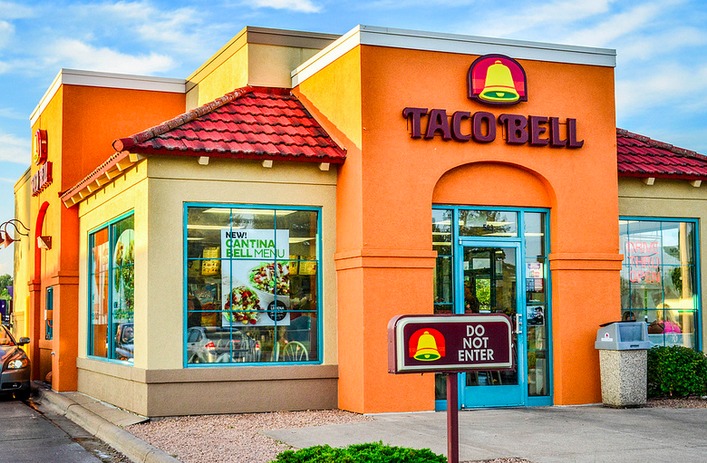 Americana
Taco Bell same-store sales were up 8% and foot traffic was up 5%, which is extremely impressive for a mature brand in a stagnant industry like fast food.
It's also worth noting that Taco Bell is almost exclusively an American brand, as it has very little in the way of an overseas presence.
So the bump can't be attributed to a recovery overseas. This is very much a domestic American story.
Fast Casual
So, even though older fast food brands have lost ground to higher-end "fast casual" chains like Chipotle (CMG) over the past decade, Taco Bell has managed an impressive comeback.
Yum – and particularly its Taco Bell brand – has really followed the lead of McDonald's (MCD) in shaking up its menu, which had gotten a little stale.
Just as McDonald's introduced all-day breakfast and other assorted menu items, Taco Bell launched its Naked Chicken Chalupas in which the taco shell is actually made out of fried chicken.
Strategy
While that sounds a little like Frankenstein's monster, it's been a major success, likely due to its novelty appeal.
Going forward, Taco Bell is looking to compete at the higher end with the likes of Chipotle while also continuing to offer cheap offerings for a dollar or two. It's ambitious, but it seems to be working.
Taco Bell currently makes up about a third of Yum's operating profits and has the best longer-term growth potential due to its smaller international footprint.
Pizza Hut
All of that is the good news. The bad news was Pizza Hut's results. Same store sales were down 3%… and 7% in its US locations.
That's particularly sobering considering that Domino's Pizza and Papa John's both had very decent quarters.
Sometimes, brands just get stale. Yum spend a lot of money refreshing KFC, and they're attempting to do the same with Pizza Hut, pledging to spend $130 million helping its franchisees update their locations and improve their technology.
It's needed badly. The mobile ordering at Domino's is a fine-tuned machine, whereas Pizza Hut's has been generating a lot of customer complaints.
Photo Credit: m01229 via Flickr Creative Commons
Charles Lewis Sizemore, CFA is the principal ofSizemore Capital Management.