In my view, the stock market rout in October has been a nasty one.
On October 24, the S&P 500 Index and Dow Jones Industrial Average fell into negative territory for the year, while the Nasdaq Composite Index has slipped into a technical correction, down 10% from its recent high.
Though the market recovered a bit the following day, the market volatility is probably far from over.
What's behind the carnage? Nobody has a crystal ball of course.
But analysts point to four trends that may have contributed to the increase volatility and steep market declines since late August.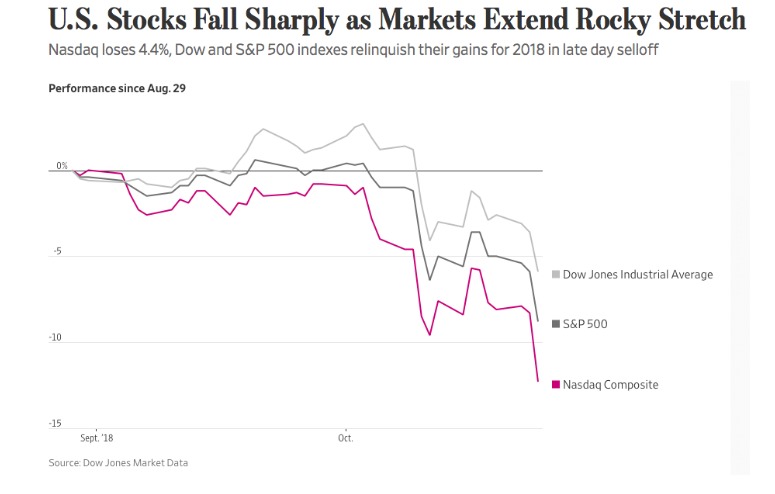 Peak Earnings
Some Wall Street pros are anxious about the direction of US corporate earnings.
According to research firm FactSet, third-quarter earnings are clocking in about 19.5% so far.
That's down from 25%-plus last quarter and the latest fourth-quarter estimates call for even slower profit growth of about 16.5%.


Tech Sector
The so-called FAANG stocks–Facebook (FB), Apple (AAPL), Amazon (AMZN), Netflix (NFLX) and Google (GOOGL)–have fallen out of favor with some investors in recent months.
Slowing user and revenue growth, as well as data security breaches, have been a concern at Facebook, while Apple may be vulnerable to a slowdown in China.

Interest Rates
The US Federal Reserve has raised interest rates steadily since 2015 and is expected to once again in December.
That in turn is raising the cost of corporate debt, home and auto loans. In fact, some see storm clouds gathering over the massive US real estate market.
Interest rates have been a historically low levels since the financial crisis a decade ago, which helped light a fire under the stock market. No more.


Trade War
The Trump Administration has slapped tariffs on more than $200 billion worth of Chinese goods and Beijing has retaliated in kind.

That's raised the cost of doing business in China and hurt big American multinationals with supply relationships and market exposure in the world's biggest economy.

The pain is being felt among big rust belt manufacturers like Ford (F) and Cummins (CMI) and tech companies.
Some big-name manufacturers such as Harley-Davidson (HOG), Whirlpool (WHR), Caterpillar (CAT) and Stanley Black & Decker (SWK) have seen their shares fall more than 20%, in part due to the trade war.
Takeaway
US stock investors have taken a hit this month, with gains being virtually wiped out for the year in the S&P 500 and Dow. 
While the US economy remains robust and unemployment is at record lows, there's uncertainty about corporate earnings and interest rates.
In my opinion, investors will need to track these trends and adjust their portfolios accordingly as 2018 winds down.
Photo Credit: Ian Sane via Flickr Creative Commons