On August 23, barring an unexpected setback, the US bull market that began in March of 2009 will go down in the record books as the longest in history.

That's quite an accomplishment, in my view, especially if you remember how grim things looked during the 2008 financial crisis that toppled Lehman Brothers and pushed the US economy into a crushing recession.
Today, the US economy is strong, unemployment is low, American banks are generally well-capitalized and Silicon Valley is home to global digital powerhouses with monster stock valuations.
Ten years ago, who would have believed that Apple (AAPL) would be valued at  $1 trillion.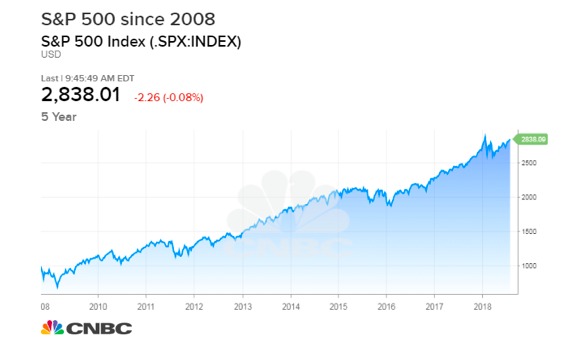 Yield Curve
Yet here's the thing about bull markets in my view: They don't last forever, and analysts see risk factors on the horizon.
First, in my opinion, there's the specter of a global trade war that could hit corporate earnings around the world.

Then there's the fact that the yield curve is flattening. That is, the spread between short-term rates and long-term rates is narrowing.

A flat yield curve often expresses investor pessimism about the future.
An inverted yield curve, in which long-term rates dip lower than short-term rates, has been deadly accurate in predicting economic downturns.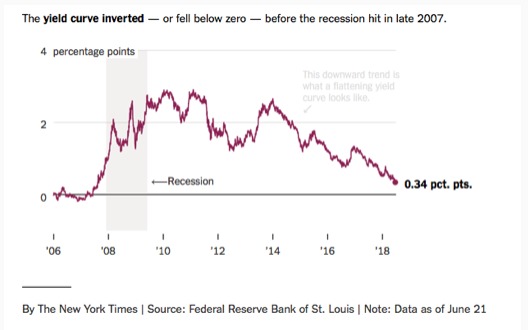 Inflation
Another potential challenge in my view: The ultra-low inflation of recent years has ended, what with prices for businesses rising 3.4 percent in July year-on-year, the biggest jump since 2011.
The Federal Reserve, meanwhile, has been hiking interest rates and has signaled it will do so again another two times this year.
At the same time, corporate and government debt levels are at elevated levels.
Takeaway
By all means, let's take a moment to celebrate a bull market for the ages. It's quite an achievement.
Then, I think the discerning investor should get back to work managing his or her portfolio and looking at the economic and market risks ahead with eyes wide open.
Photo Credit: thenails via Flickr Creative Commons