Technology stocks such as Apple (AAPL), Google (GOOGL), and Facebook (FB) have an outsized impact on the stock market.

In recent years, they've enjoyed big gains in market value.

But lately there's another sector that's been on fire in my view, though it's far less glamorous: consumer-focused stocks.

The consumer discretionary sector, non-essential goods and services, is up 14.7%, on par with technology stocks (15.4%) as of August 18, according to an analysis by Bespoke Investment Group.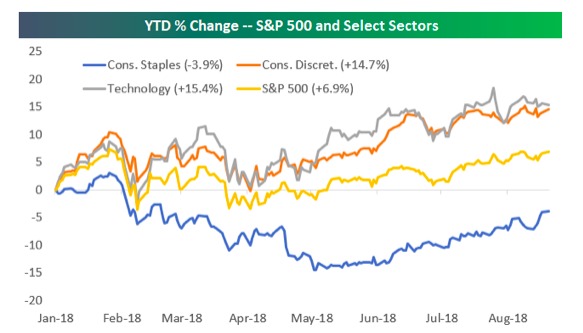 Consumer Staples

The consumer staples sector focused on essential items such as food, beverages and household items is down 3.4% on the year.

However, these stocks have been up sharply since May 3 through August 18.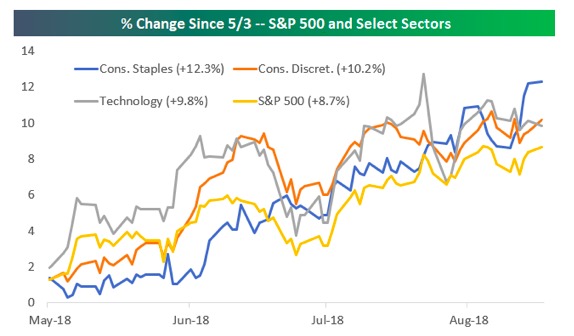 Kroger

In my opinion, the run-up in consumer staples is reflected in individual consumer stocks.

As Bespoke points out, "grocery store chain Kroger (KR) is up the most since May 3rd with a gain of 31.78%, followed by Kellogg (K), Clorox (CLX), and McCormick (MKC) all with gains of more than 24%.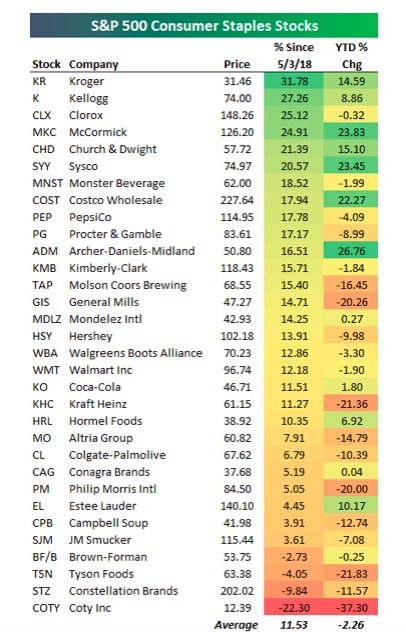 Takeway

The performance of technology stocks has been a big contributor to the current and historic bull market.

Yet, in my opinion, investors should keep an eye on the consumer sector as well.
Photo Credit: Peter Gronemann via Flickr Creative Commons