Storm clouds are gathering over urban retail districts and suburban shopping malls.
The inexorable growth of online retailing is hitting brick- and-mortar outlets hard.
Between 2010 and 2014, the New York Times noted recently, e-commerce grew by an average of $30 billion annually.
Job Losses

On top of that, average annual growth has increased to $40 billion over the past three years.
All this is leading to staggering job losses in an industry that employs one in 10 Americans. Sears Holdings (SHLD) recently warned investors that it can't promise it will stay in business.

Since last October, some 89,000 jobs in general merchandise have been wiped out.
That's more than all of the people employed in the United States coal industry, according to the New York Times.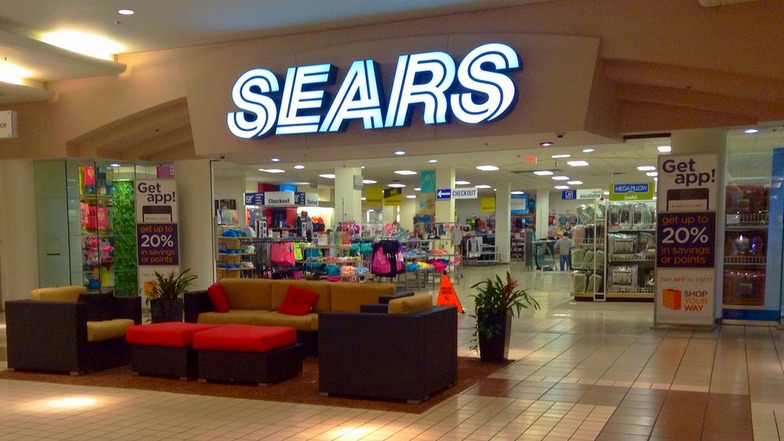 Short Interest

Investors have taken notice
Bespoke Investment Group has developed a "Death By Amazon" index of stocks, which represents retailers believed vulnerable to the giant e-commerce company.
Take a look at this chart Bespoke pulled together comparing the price of the S&P 1500 Retailing Group and the average short interest as a percentage of float for stocks in the group going back to 2007.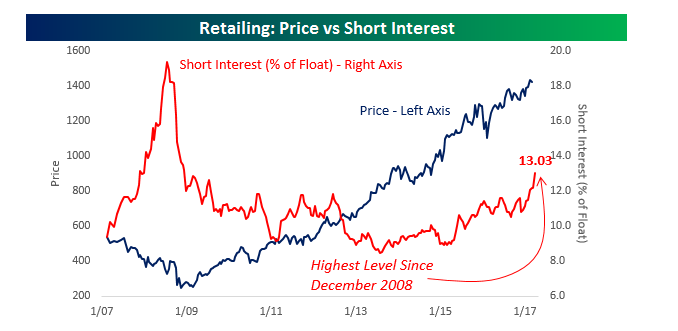 Short interest has been rising in recent months and is now hovering at levels not seen since the financial crisis of 2008, according to Bespoke's analysis.
Here's a breakdown by Bespoke of retail stocks with the highest levels of short interest, a sign investors are bearish.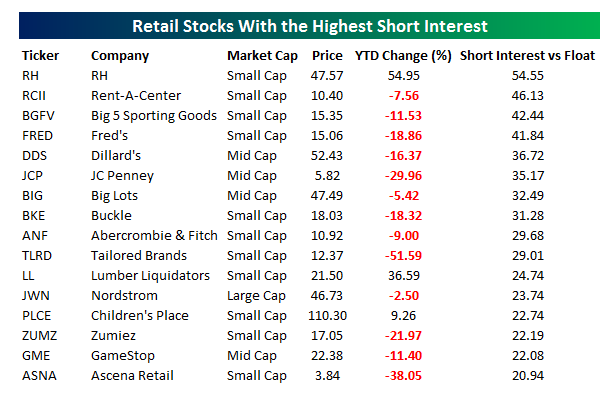 Takeaway
These are tough times for brick-and-mortar retailers.
E-commerce continues to gain in scale and retailers that don't have a thriving digital business are at risk, in my opinion.
The retail blowout, in my view, may have a big societal impact as a source of low-skill jobs dries up.
Photo Credit: Mike Mozart via Flickr Creative Commons