After a rip-roaring rally late last year, small-cap stocks have hit a wall in 2017.
The Russell 2000, the benchmark small-cap stock market index, is up about just under 2% through March 20.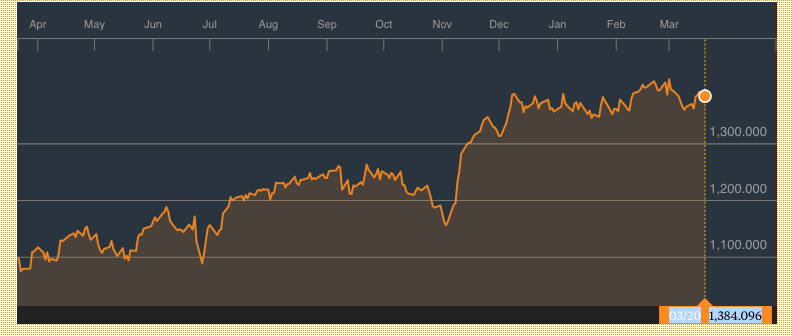 By comparison, the S&P 500 Index of blue chips has advanced 6%.
Valuation Gap
What gives?
One potential issue for investors may be the widening valuation gap between small-cap and large-cap stocks.
The forward price-to-earnings ratio of the Russell 2000 is 25.4, according to Zacks Investment Research.
That's the highest level since 2009 and well above a 10-year average of 20.7.
Performance Gap
Another way to analyze the divergence is to look at broader Russell 3000, which covers a bigger universe of stocks, both small, medium and large-cap companies.
Bespoke Investment Group generated an interesting chart by breaking up the Russell 3,000 into deciles (10 groups of 300 stocks each) based on market caps.
Take a look at the next chart, and it's clear that large-caps are outperforming their smaller brethren.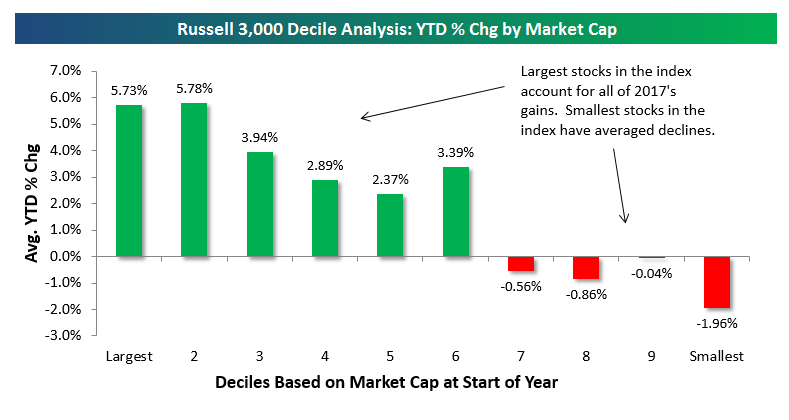 Takeaway
The small-cap rally has cooled.
The overall market remains robust, but it's being driven by blue chip.
For the moment, small-cap valuations are just too pricey for many investors.
Photo Credit: moonjazz via Flickr Creative Commons