by Michael Tarsala
Covestor's Brendan Ruchert Dixon is still taking a cautious stance toward equity markets — with the exception of his new bet on First Solar shares this month.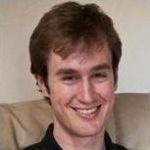 It's a contrarian investment by Dixon — he believes that the market has it wrong on this stock. Despite the unpopularity of the solar group, he's positioned 12% of his Alpha Trapper model long First Solar shares.
"I'm market-neutral, and mainly placing bets on things that already have suffered a big crash," Dixon told me this week. "First Solar is an example: It's a beaten-down value play. The value of the company is greater than the market is giving it credit for right now."
The book value of First Solar — which measures that would remain for shareholders if all assets were liquidated and all debts paid — is 51% of its current market value.
Dixon is betting that at least part of the book value-to-market-value gulf will be filled over time, as the company consolidates and focuses on markets outside of Europe.
To be kind, First Solar has its warts. Like most of the industry, it's been stung by falling subsidies in Germany and Italy, increased land regulations, and more price competition from solar manufacturers in China.
However, Merrill analysts made the case this week for the stock improving its earnings potential and moving up from the low $20 range — where Dixon bought it — to the $30s.
This much I know: Dixon's unconventional bet on First Solar is one of the types of market moves that can only be employed by an active manager, as compared to an index fund or ETF strategy.
Popular or not, Dixon is now exposed — and has his investors exposed — to a unique contrarian story. It's a stock with high short interest and negative sentiment that had been down more than 80% year-to-date.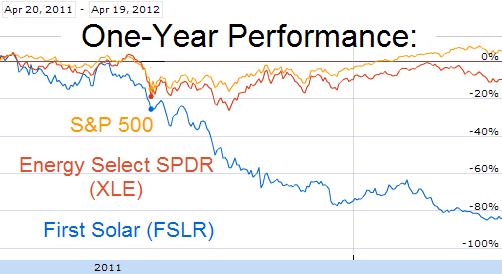 Source: Google Finance
To me, it demonstrates independent thinking.
And independence is one factor that research has concluded may be a prerequisite for larger-than-average returns.
Here's something that makes me think that Dixon is right on at least one of his assertions: That the shorts are crowded into First Solar.
With 42% sold short, FSLR is one of the most heavily shorted stocks in the S&P 1500 as of March 30, according to Bespoke Investments.
Also according to Bespoke, there was a potential sign this week that there may be a limit to how much the crowd can send First Solar lower without some pushback:
A case in point regarding stocks with high short interest being crowded trades is First Solar (FSLR).  While short-sellers have been coining money on the stock for months now, (on April 17) the stock came out with what would often times be considered negative news when the company announced that it would close plants due to weaker demand and cut 30% of its workforce. On the news, however, the stock rallied more than 10%, as traders who were short the stock were forced to cover their shorts when the stock didn't go down.
Dixon could be proven wrong on this idea.
But I like his thought process. And I, for one, did not hear of too many other managers anywhere identifying and taking on this uncommon covestment.