Here's a bit of merriment for investors in a tough year: Santa has delivered a nearly 3% rally this holiday season.
Heading into a three-day Xmas weekend, the S&P 500 Index and Dow Jones Industrial Average are up 2.7% and 2.4%, respectively, over a four-day period ending December 24.
A rebound in oil prices and improving numbers out of China have placed investors in a festive mood.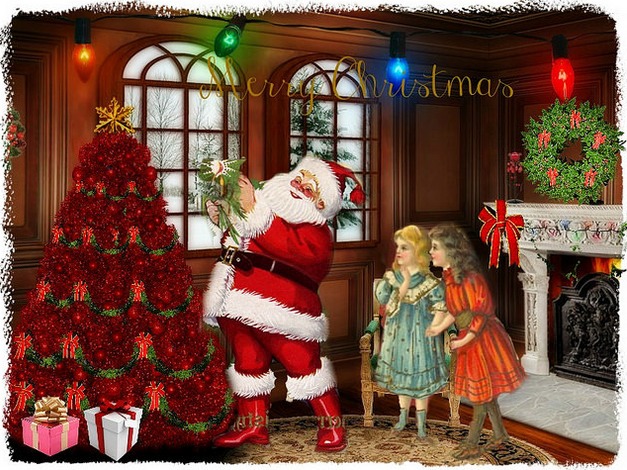 Xmas Eve Trade
Stocks actually finished down on Xmas Eve, which is a little unusual if you look at the historical data.
Bespoke Investment Group has pulled together an interesting chart tracking Christmas Eve trading (an abbreviated session) going back to 1928.
History shows this is usually an up arrow day for investors.
The broad-based index has been up roughly 75% of the time since 1928 and 60% of the time over the past 15 years.
Modest Bounce
However, the Xmas Eve boost tends to be a modest one.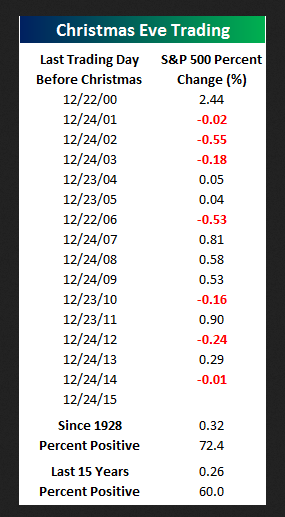 As Bespoke Investment Group points out, "the S&P 500 has only seen a move of more than 60bps three times in the last fifteen years."
Takeaway
Should the year-end rally continue next week, there's a chance all three major indices will finish in positive territory.
As of December 23, the S&P 500 is up slightly through December 24, while the Dow is down 1.5%.
The tech-laden Nasdaq Composite is the star performer this year, up 6.6%.
Photo credit: Dianne Lacourciere via Flickr Creative Commons