All things must pass.
And someday that will be true of the spectacular stock market rally that began in March of 2009.
There are tentative signs that day is drawing nearer.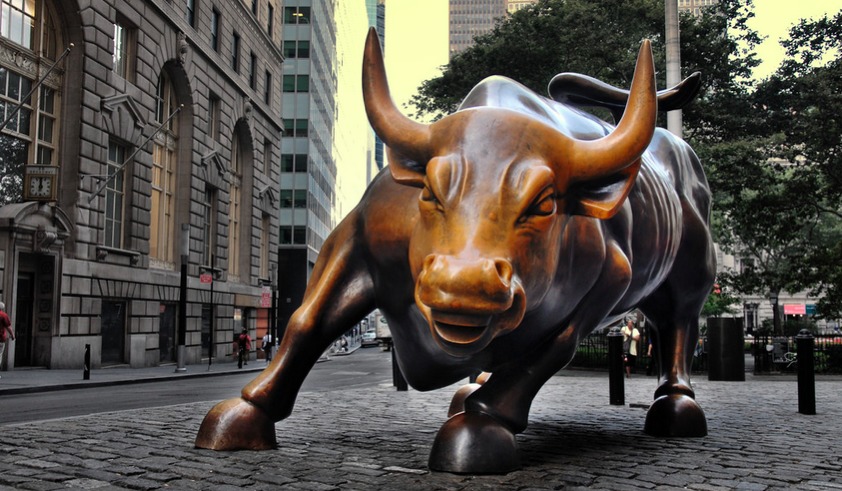 Age Lines
This current rally is more than six years old now.
Stack up this bull run against previous ones going back 85 years and it's 2 years longer than the average.
The S&P 500's gain of 213% as of the end of May is also more than double the median bull gain of 101.5%, according to InvesTech stats.
Peaking Profits
Another worrisome trend: Corporate profitability is higher than its historical average at this point in the business cycle and it's starting to shrink.
That's not good for share prices going forward if you think profits have peaked and there's little upside remaining.
Morningstar analyzed the S&P 500's profitability—as measured by net income margin, operating margin, and return on equity (ROE)—and found that it is above its mid-cycle and long-term averages.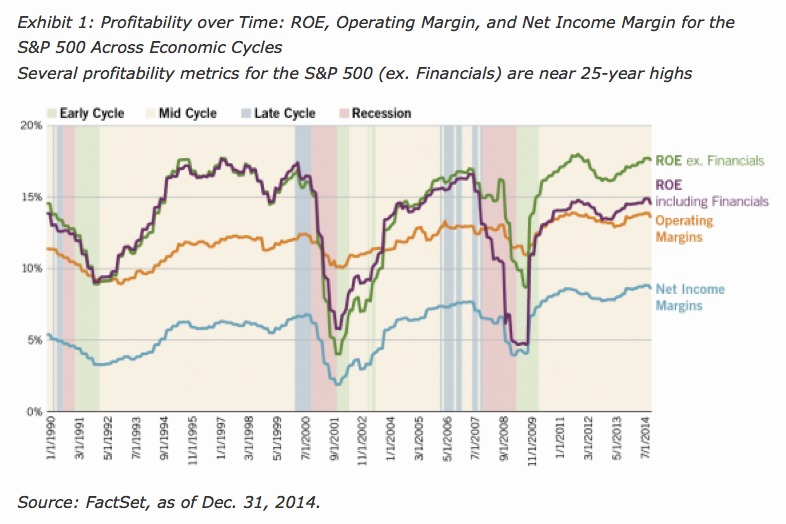 No Pullbacks
Then consider this: the S&P 500 has gone 44 months without a 10% correction.
That's the third-longest streak since the inception of the Index in 1957.
Market Breadth
Also, analysts tracked by Wall Street Daily have noticed adverse trends in certain technical metrics that measure market breadth.
As Alan Gula, Wall Street Daily's Chief Income Analyst, recently noted:
"Few than 65% of stocks were above their 50-day moving average. In other words, a relatively low percentage of stocks are participating in the rally."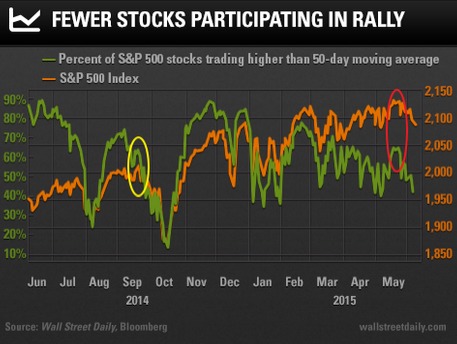 4-Week Lows
On top of that, a remarkable number of stocks are touching fresh four-week lows.
"This is surprising," according to Gula, "given that the broader index level has declined less than 3% from the peak."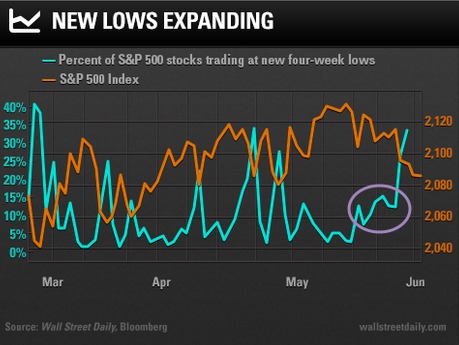 Takeaway
There's no denying this bull market has had a great run, lasting 24 months longer than the average rally.
Yet earnings are slowing and fewer stocks are participating in the rally.
In a matter of months, the US Federal Reserve may start raising interest rates.
Any way you cut it, this bull is looking winded.
Photo credit: Sam Valadi via Flickr Creative Commons