GoPro is definitely ready for its close-up.
The action video camera vendor (GPRO) keeps moving from strength to strength.
In April, it released its fourth earnings announcement as a public company. And since its IPO on June 26 of last year, it has handily beaten Street earnings expectations four straight times.
Not only that – in that March quarter earnings release, it also issued above-consensus guidance for the current June quarter – traditionally a seasonally softer period.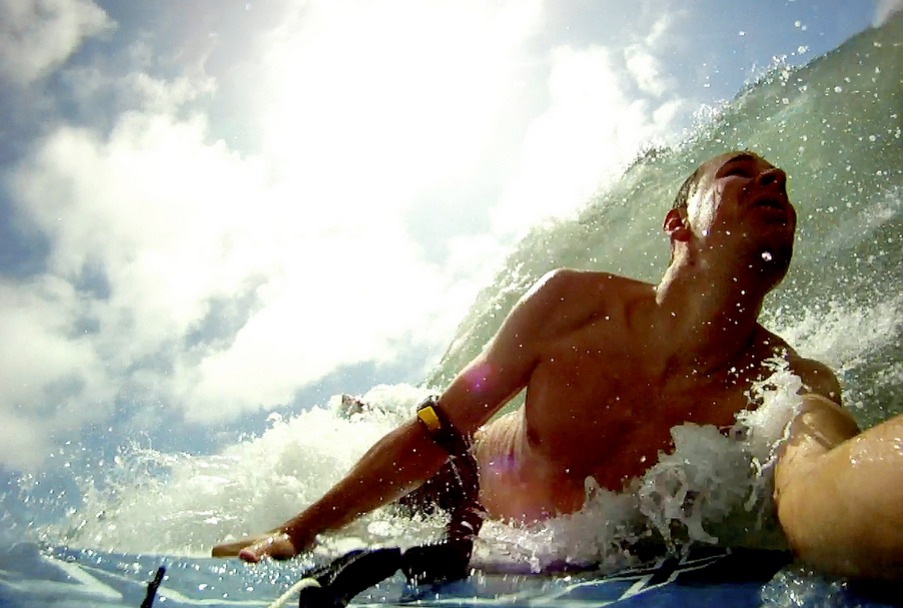 Overseas Expansion
This unexpected strength is due in part to GoPro's ever-expanding product line. They now have five different models of their flagship Hero video camera.
GoPro is also moving decisively overseas and now gets more than 50% of its revenue from international markets.
Moreover, its market power is such that it can sell and be paid in US dollars, avoiding the foreign exchange headwinds currently affecting so many American multi-nationals.
Riding the Tiger
So it's fair to say that GoPro doesn't really have any major problems to speak of. Unless you want to count 'riding the tiger' as an industrial problem.
But managing breakneck growth goes beyond just adding second and third shifts 'down at the plant.' Having not one but two Asian contract manufacturers, Chicony Electronics and Sky Light, certainly helps with THAT particular issue.
No, "growth" in this context means a hardware-based company preparing for the inevitable, when Moore's Law catches up with you and you can no longer increase sales volumes enough to overcome lower average selling prices.
Beyond Cool
In other words, when your cool tech product is good enough, and even though a replacement is cheap, there isn't enough "up" in an upgrade.
You know, just like the PC business about 10 years ago, when PC prices crashed to the sub-$500 range and unit growth rates sank to GDP territory.
IBM (IBM) read the writing on the wall and sold their whole PC business to Lenovo. Dell (DELL) and Hewlett-Packard (HPQ) weren't as nimble and we know how that went.
If GoPro chooses to remain a 'product' company, then it might recall how Intel navigated its way through the PC decline. Very early in the PC mega-trend, Intel was a mere supplier of CPUs to IBM and dozens of vendors of "IBM-compatible" PCs.
Eventually, the PC clone makers beat each other into profitless submission while Intel (INTC) remained immensely profitable, even in a no-growth PC market. In 2014, Intel's gross profit margin was nearly 64%; Hewlett-Packard? 23%.
Also, Hewlett-Packard is splitting itself in two and, well, Intel isn't.
Food Chain
In short, GoPro could move upstream in the food chain and acquire some of its key suppliers. For example, Ambarella (AMBA) supplies GoPro with image processing semiconductors integral to GoPro's Hero cameras.
But only about 25% of Ambarella's sales are to GoPro. The rest are to existing or new entrants…like Xiaomi, the white-hot Chinese electronics firm that is already #2 in smart phone market share in China.
GoPro is currently firing on all cylinders and it's hard to see it being the Gateway Computer to Ambarella's Intel. For now. But here's another way to think about it.
Since its IPO last June, GoPro shares are up 75% from its first-day open. During that same time, Ambarella is up 132%.
Downstream Products
Stock prices move for a lot of reasons but I think that outperformance of Ambarella versus GoPro might have signaled that investors are slightly more comfortable betting on the overall trend of personal video rather than GoPro's particular strategy for extracting a profit from it.
Or maybe it was Ambarella's operating cash flow margins (3x those of GoPro) that caused it…
What about downstream products? Well, GoPro is already selling software that manages the content its cameras generate.
And it recently bought Kolor, a privately-held vendor of software for displaying and managing virtual reality and spherical media content.
Apple Cam?
So for now, GoPro seems content to be a 'product' company and expand and grow around its cameras.
But foremost among the many risks of being a 'product' company is that it's very hard to predict if your product category will be like a pocket camera or transistor radio with a 40- to 50-year life.
Or like a personal digital assistant (e.g., "Palm Pilot"), done and gone in about five years, wounded first by the BlackBerry then eaten whole by the iPhone.
And what about the elephant in the room? Can you see an Apple Cam?
You know, a lipstick sized module that affixes in an elegant and aerodynamic way to a helmet and beams its video, a la the Apple Watch, to a ruggedized iPhone? I'm just sayin'…
Media Play?
With all those forces conspiring to keep GoPro from remaining a dominant hardware vendor, what about moving way downstream into media? Products are a one-time sale, but as Walt Disney (DIS) figured out, content is evergreen.
GoPro is doing a fair amount to exploit that ultra-cheap, user-generated content. Here's an excerpt from its 10-K, published in March:
"We distribute GoPro programming through what we refer to as the GoPro Network, a collection of GoPro Channels hosted on a variety of platforms, including Facebook (FB), Instagram, Pinterest, Twitter (TWTR) and YouTube (GOOG).
We began generating revenue from GoPro Channel advertising and sponsorship opportunities on Xbox Live and GoPro Channel advertising on YouTube in the second quarter of 2014."
History Lessons
And how's business? Again from the 10-K:
"The revenue earned from these GoPro Channels was not material to us in 2014."
It's rare for an inventor to turn the invention into a dominant or monopoly position in the media it enables. Marconi invented the radio and created a lasting company. But he didn't control the content.
Neither did Farnsworth (television). Nor Edison (phonograph and motion pictures). So it's not likely GoPro will break that streak.
And maybe that's a good thing. After all, do you really want to be the YouTube of point-of-view content when the YouTube of…YouTube doesn't even make money?
Long-Term Challenge
For now, GoPro and its investors can probably relax. New products are on the way, international growth is exploding and the company has sold fewer than 15 million cameras since it started – barely any at all compared with the 2.1 billion mobile handsets sold every year.
GoPro, under the inspired leadership of founder and CEO Nick Woodman has built a brand so powerful its name is a generic term.
Whether the company and brand will endure, like Google or Kleenex, or will become the Rolodex of point-of-view video remains to be seen.
Just like all the GoPro videos yet to come.
Photo Credit: Axion 23 via Flickr Creative Commons