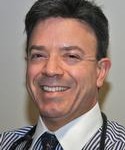 Philip Pecoraro is a psychiatrist and internist with 26 years of clinical practice experience in general internal medicine, emergency medicine and general and consultation (hospital-based) psychiatry. He has been an associate professor of Medicine and Psychiatry at a university medical center. He has ten years of private investment experience and have read extensively in technical analysis, market profile theory and value investing. He is an active member of the Market Technicians Association. Philip describes his investment approach as:
a combination of fundamental research coupled with real-world experience in the biotechnology/healthcare sector. It is refined by timing techniques for entries and exits from regular study of technical analysis.
Philip's interest in investing was
inspired by growing up in Manhattan in the Wall Street area and observing his father, who was an active investor using a fundamental and technical combined approach. His father was an accountant and private investor, who performed technical analysis using pen and paper in the 1960s. He believes that market behavior is the reflection of the mass psychology of all participants. Waves of optimism, pessimism and ambivalence are mirrored in the momentum of advances and declines and in volatility when participants are digesting market events.
Philip manages Covestor's Biotechnology model, which
identifies both undervalued and rapidly appreciating equities in the biotechnology/healthcare sector. It uses current undervaluation, insider activity and momentum to identify opportunities.
Current top holdings include Corcept Therapeutics (Nasdaq: CORT) and Opko Health (AMEX: OPK). On March 29, Philip added Illumina Inc (Nasdaq: ILMN), a developer, manufacturer, and marketer of integrated systems for the analysis of genetic variation and biological function.
ILMN was upgraded by Auriga USA on March 28, following the closing of the company's capital restructuring announcement:
Illumina, Inc. today announced the closing of $800 million principal amount of 0.25% Convertible Senior Notes due 2016 through offerings to qualified institutional buyers pursuant to Rule 144A under the Securities Act of 1933, as amended (the "Securities Act"). In connection with the offering, Illumina also granted the initial purchasers a 30-day option to purchase up to $120 million of additional notes.

…

Illumina used $314.3 million of the net proceeds from this offering to purchase 4,890,500 shares of its common stock in privately negotiated transactions concurrently with this offering. The company also intends to use between approximately $260 million and $390 million of the net proceeds of the offering to fund conversions of its currently outstanding convertible notes.
Here's how ILMN has performed over the past year, via Google Finance:

Sources:
"Upgrades & Downgrades History" Yahoo Finance, 3/31. https://finance.yahoo.com/q/ud?s=ILMN
"Illumina Closes $800 Million Convertible Senior Notes" Ilumina Inc, 3/18. https://finance.yahoo.com/news/Illumina-Closes-800-Million-bw-4233184508.html