The bears are coming out of hibernation a little bit early this winter, especially considering the frigid temperatures across much of the US.
Since the start of the year, there has been chatter among some market pundits that the stock market will experience a correction in 2015.
I don't agree.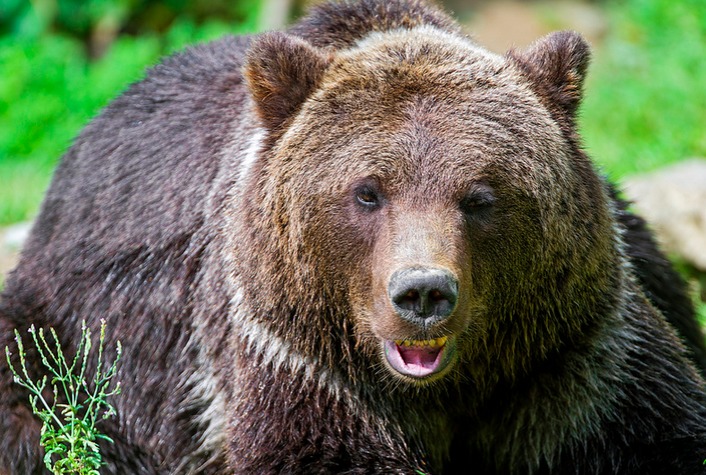 Technical Support
Take a look at the chart below for the SPDR S&P 500 Index ETF (SPY). It tracks daily price changes from April of 2013 through February 20.
The two angled white lines highlight the trend line for the market since the recovery from the financial crisis in 2009.
By historical standards this has been a fairly long advance characterized by very low volatility.
Now take a look at the two horizontal white lines that highlight the market trend since December of last year.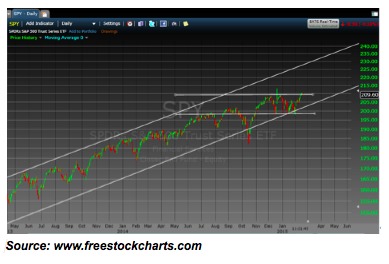 Pause that Refreshes?
True, the market has been moving sideways for about three months. However, in my opinion, this could well be a consolidation period, or pause, in a sustainable upward trend in stock prices.
My investment thesis would be confirmed if the market trended down from here. That is, it went below the lower angled white line, but reversed back up after reaching the lower horizontal white line.
From there, I'd obviously love to see the market rally above the top horizontal line and up to a point where it reaches the top angled white line. This would indicate a continuation of the current bull market.
Powder Dry
However, if the market goes into a decline, while not the preferred action, it may not be a sign for worry. A continued sideways consolidation period from current trading levels would actually be welcome given current high valuations.
I don't expect to take any trading action until the S&P 500 Index drops to around the 1,970 mark.
This would definitely indicate some weakness and I assume it will take some negative economic or political news for that to happen.
A drop to 1,970 would only represent a 6% decline from current levels, so while unwelcome it would not be met with panic selling in my view.
Photo Credit: Tambako the Jaguar via Flickr Creative Commons
The investments discussed are held in client accounts as of February 27, 2015. These investments may or may not be currently held in client accounts. The reader should not assume that any investments identified were or will be profitable or that any investment recommendations or investment decisions we make in the future will be profitable.