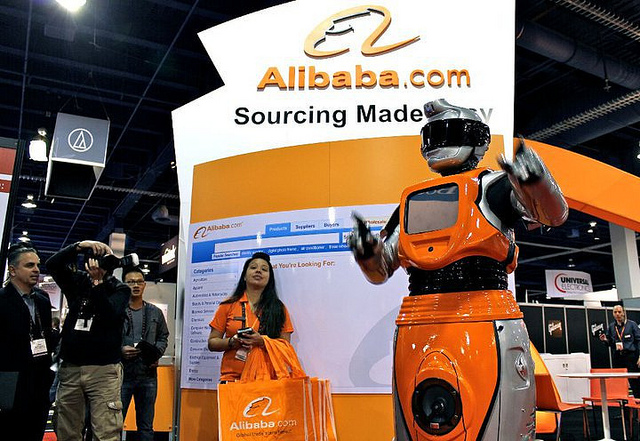 The stock market is buzzing with news that Chinese e-commerce giant Alibaba has filed for an initial public offering in New York later this year that could be the biggest in U.S. history.
Alibaba is kind of a mash-up of several Internet businesses, and not necessarily widely known among U.S. investors.
For the uninitiated, here is a primer on six things you should know about the company:
Who started the company and what does it do?
Alibaba was founded by Jack Ma, a former English teacher from the eastern Chinese city of Hangzhou. Think of it as kind of Chinese version of eBay (EBAY) and Amazon (AMZN), wrapped up in one package. The company is a powerhouse spanning business-to-business web portals, online retail, shopping search engines, and cloud computing. Ma has a $12.5 billion net worth, up $8.9 billion year-to-date. Search giant Yahoo (YHOO) owns a stake in Alibaba.
Is Alibaba a leader in China?
"Leader" doesn't quite capture how dominant Alibaba is in the world's biggest Internet market.
Consider this: China has 560 million internet users – twice as many as the U.S. – who spend an average of 20 hours a week online. China's equivalent of Black Friday in the U.S. is Single's Day on Nov. 11, the biggest online shopping day of the year. Last November, Alibaba sites such as Toabao and Tmall raked in $5.75 billion in sales in the 24 hour period.
Alibaba's mobile payments service Alipay is responsible for 70% of all of China's mobile payments in 2013. And the company dominates the business-to-business e-commerce business with a nearly 50% share as of early 2013.
How big will the IPO potentially be?
In its SEC filing, Alibaba said it would raise $1 billion. However, it is widely expected the company will raise far more than that, perhaps more than the $17.9 billion raised by Visa (V) back in 2008, making the stock debut the biggest ever in the U.S. Credit Suisse (CS) is lead underwriter.
What's the company actually worth?
Alibaba may be worth about $170 billion, according to a consensus of analyst valuations compiled by Bloomberg. Interesting sidenote: Japanese Internet company Softbank made a $20 million investment in Alibaba back in 2000. Today, that stake could be worth about $58 billion given that Softbank owns 34% of the Chinese company. Nice payday.
Is the company profitable?
Very. It earned $2.85 billion on revenue of $6.5 billion in its latest annual reporting period. Adjusted EBITDA is $3.8 billion
What should potential investors worry about?
Chinese IPOs have a habit of attracting a lot of hype, then not performing well, according to Kathleen Smith, a principal at Renaissance Capital, an IPO investment advisory firm. "There have been four U.S-listed Chinese IPOs so far this year, [and] none have performed well in post-IPO trading," Smith recently told MarketWatch.
Weibo (WB), the microblogging company known as China's Twitter, soared above its IPO price of $17, but then the stock surrendered most of those gains.  On May 8, it closed at about $18 a share.
Also, security has been a concern in the past. Back in 2011, Chinese police arrested 36 people in connection with operating fraud on Alibaba.com, in which a criminal gang used fake personal and business identities to open accounts on the company's B2B e-commerce platform and cheated overseas buyers of more than $6 million, according to Reuters.
In its IPO filing with the SEC, Alibaba noted that: "Any loss of trust in our platform could harm the value of our brand and result in buyers and sellers ceasing to transact business on our marketplaces as well as participants reducing the level of their commercial activity in our ecosystem, which could materially reduce our revenue and profitability."
Photo credit: Alibaba Fan Boy via Flickr Creative Commons
DISCLAIMER: The information in this material is not intended to be personalized financial advice and should not be solely relied on for making financial decisions. All investments involve risk, the amount of which may vary significantly. Past performance is no guarantee of future results.