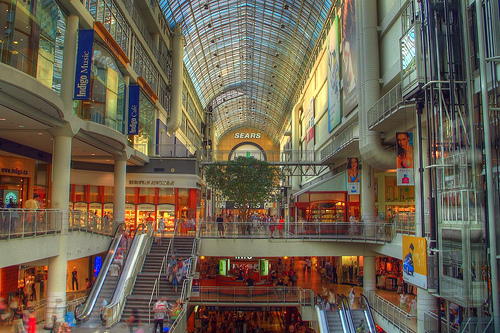 Mall landlords are facing challenges in 2014 as some retail chains announce store closings and weak holiday sales. Also, shopper traffic is down as more consumers buy products online rather than heading to the local mall.
U.S. retailers are feeling a holiday season hangover. Heavy discounting in the fourth quarter of 2013 resulted in a stronger-than-expected 2.7% increase in December sales at the eight retailers tracked by the Thomson Reuters Same-Store Sales Index.
Whipping out the markdown pen helped sales, yet sacrificed profits in a big way. And that's reflected in the poor earnings or lowered guidance from the likes of Best Buy (BBY), American Eagle Outfitters (AEO), Victoria's Secret parent L Brands (LB), Pier 1 Imports (PIR), Family Dollar Stores (FDO), and Bed Bath & Beyond (BBBY). And for investors who have plowed into mall REITs in recent years, that could be disconcerting news.
Real estate investment trusts that own regional malls have been the best-performing U.S. property stocks for four years running until last May, when the Federal Reserve started to signal it might scale back its quantitative easing program.
Take at look at the following chart mapping the 14% slide since May in the Bloomberg REIT Regional Mall Index, based on trusts that own regional mall properties.
The biggest players in retail REITs, with prime properties and locations, like Simon Property Group (SPG) and General Growth Properties (GGP), haven't fared much better.
Retail REITs have a high negative correlation to 10-year Treasury yields. Higher interest rates mean higher borrowing costs for many developers. This next chart from Bloomberg Industries showcases the trend.
Beyond monetary policy swings, something more fundamental is going on that is challenging American retailers, and by extension retail REITs, in a long-term way, according to a recent Wall Street Journal story.
The rise of online retailing and showrooming, in which shoppers research in physical stores but buy goods online, has depressed foot traffic and retail store investment in recent years.
Retail chains such as J.C. Penney (JCP) are feeling the pinch. Earlier this month, J.C. Penney said it plans to close 33 underperforming stores. Macy's (M) said it will lay off 2,500 workers and shutter five stores. Sears Holdings (SHLD) has also closed stores in recent years, and reported disappointing holiday sales.
Charles Sizemore, who manages several portfolio on the Covestor platform, including the Sizemore Global Macro portfolio, thinks the retailing industry's woes may be tied to the uneven nature of the economic recovery:
When the financial crisis first hit, some called it a rich man's recession because the wealthy were hit first.
"However, that's turned out to be a huge lie," he said. "The wealthy recovered quickly, but in the aftermath the working class has suffered. We're officially out of recession yet the economy is limping along, and unemployment is highest among the young, uneducated and lower-income classes."
Photo Credit: christopher.woo
DISCLAIMER: The investments discussed are held in client accounts as of December 31, 2013. These investments may or may not be currently held in client accounts. The reader should not assume that any investments identified were or will be profitable or that any investment recommendations or investment decisions we make in the future will be profitable. Past performance is no guarantee of future results.