The phenomenon of showrooming – in which consumers armed with smartphones show up at a store to check out a product, then buy the same item for lower price online – has been a real curse for major American retailers.
A recent study by Deloitte Digital estimated that some $159 billion in U.S. store sales were impacted by the showrooming trend. That's about 5 percent of total 2012 sales. By 2016, that figure could hit $689 billion, figures Deloitte.
Which major retailers are most vulnerable? Market research firm Placed recently conducted a survey and developed a list of retailers most impacted by showrooming and Amazon (AMZN).
The study found that consumers who showroom, then purchase on Amazon, are 20% more likely to visit Best Buy (BBY) and 15% more likely to visit Target (TGT) than average, but Bed Bath & Beyond (BBBY), PetSmart (PETM) and Toys 'R' Us all face greater risk.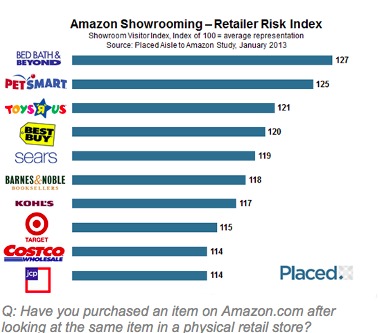 Retailers are starting to fight back. Best Buy now matches the lowest price found at online retailers. Tom Gara at the Wall Street Journal has an illuminating story about how Best Buy, which just signed an ambitious partnership with Samsung, has rolled back the tide off showrooming. Left for dead not that long ago, the retailer's stock is also on fire this year.
Finally, Statista and the American Association of Advertising Agencies put together this infographic that illustrates the showrooming trend in an interesting way:

Photo: BetterBizIdeas
The investments discussed are held in client accounts as of March 31, 2013. These investments may or may not be currently held in client accounts. The reader should not assume that any investments identified were or will be profitable or that any investment recommendations or investment decisions we make in the future will be profitable.