This chart shows the most productive retailers in the United States in 2012, based on sales per square foot. Apple is not only the most profitable company in the United States; it also has a highly effective retail strategy.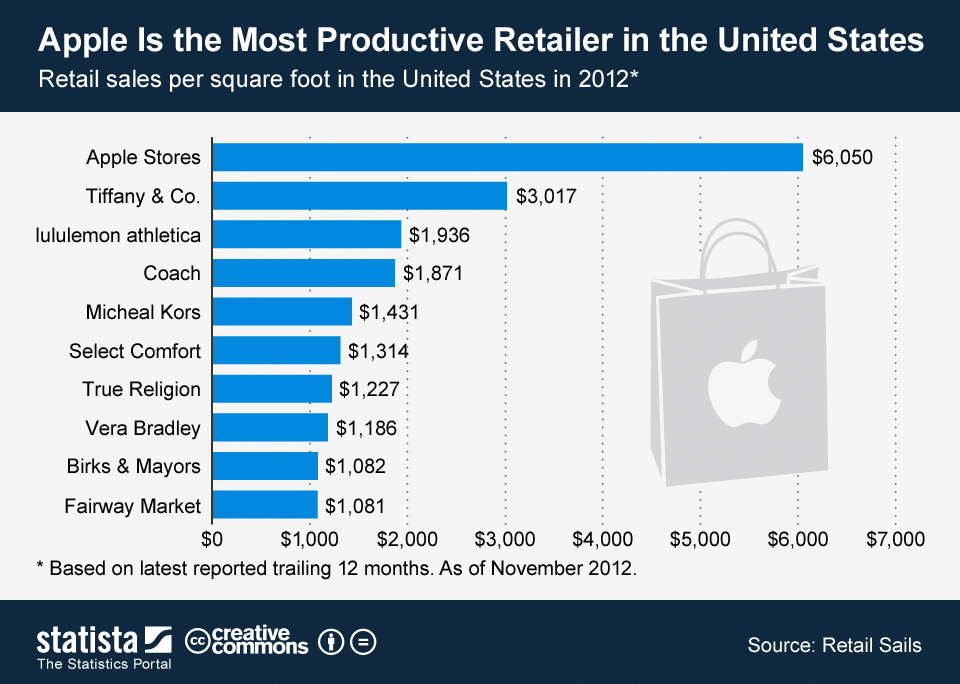 According to data released by Retail Sails, a research firm focused on the retail and consumer goods industries, Apple's retail stores generated the highest sales per square foot of any retailer in the United States by a wide margin. In the twelve months period covered in the report, Apple raked in $6,050 per square foot. Tiffany & Co., a luxury jewellery retailer, was ranked second with sales of $3,017 per square foot.
In terms of overall sales per store, Apple was ranked ninth, with average sales of $51.1 million. The undisputed leader in this category was Costco with average sales of $137.2 million per store.
These results show that good products alone might no longer be enough. Apple's strategy of combining great products with a first class retail experience appears to be a winning combination.
Data and chart: Statista
Photo of Upper West Side NYC Apple store: Nicolas Fluery
Disclosures: Certain information contained in this presentation is based upon forward-looking statements, information and opinions, including descriptions of anticipated market changes and expectations of future activity. The manager believes that such statements, information and opinions are based upon reasonable estimates and assumptions. However, forward-looking statements, information and opinions are inherently uncertain and actual events or results may differ materially from those reflected in the forward-looking statements. Therefore, undue reliance should not be placed on such forward-looking statements, information and opinions.
Any investments discussed in this presentation are for illustrative purposes only and there is no assurance that the adviser will make any investments with the same or similar characteristics as any investments presented. The investments are presented for discussion purposes only and are not a reliable indicator of the performance or investment profile of any composite or client account. Further, the reader should not assume that any investments identified were or will be profitable or that any investment recommendations or investment decisions made by model managers in the future will be profitable.