Facebook stock is up 20% today following its earnings report that was particularly encouraging on the mobile front – a huge question mark for the company to date. The WSJ's Rolfe Winkler reports just how strong Facebook's mobile advertising growth was:
The social network disclosed Tuesday that in the third quarter, it generated 14% of advertising revenue from mobile devices, or about $150 million. Impressively, on its earnings call the company suggested that mobile revenue generated per day has increased by a factor of six since the previous quarter—to about $3 million a day at the end of September, from around $500,000 as of June 30.
On that call, an analyst rather hesitantly posed a question about accidental clicks on smartphones:
Jordan Rohan – Stifel Nicolaus
Thank you so much. I hope this question comes across okay. Click-through rates may indeed be high on the Feed. I'm curious if you're able to measure how many of these clicks are accidental and intentional or due to the smaller form factor of smartphones? Put another way, do you see difference between the click-through rates in the Feed between small-form-factor handsets, which are mobile, and larger-form-factor tablets, which may also be considered mobile, but where one could see fewer fat-finger clicks?
Facebook's beleaguered CFO brushed the fat finger concern aside:
David Ebersman – Chief Financial Officer
I think on [your] question, I mean, there are inadvertent clicks on every platform for every company that shows advertising, so it's just something for us to continue to be aware of and monitor, but I don't think it's a specific issue to Facebook, and I do think over time it's the kind of issue we'll be able to make good progress at managing.
 The term made Kara Swisher chuckle:
Ah, the fat-fingered click crisis! This is why I could not be a public company exec — I would start giggling at the term "fat-fingered click."
But analyst Richard Greenfield of BTIG isn't giggling today:
Greenfield wonders whether the rate of accidental "Likes" has increased with the mobile shift thanks to the "fat finger" problem of users making accidental clicks on a small screen. "We view this as a critical issue, as accidentally clicking on an ad on most mobile websites causes you to see an unwanted ad, but clicking Like accidentally on Facebook causes you and all or your friends to be spammed by that brand daily going forward."
I'm not so sure the spamming is that extensive after a fat fingered Like, but given the importance of mobile ads to Facebook, this does seem to be a legitimate question. So let's take a look. Here's what a Facebook 'Sponsored Story' (that is, an ad) looks like in the feed when the ad is content-based:
Other Sponsored Stories are simply 'Pages You May Like':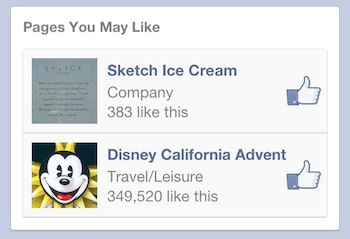 In both cases, on a smartphone you have to press directly on a small target (the video box or the sponsor's name for Pages You May Like) to activate the sponsored link. And when you arrive at the landing page, that does not register as an automatic Like of the sponsor. That requires another click.
Alternatively, on the Pages You Make Like version, a user can click directly on the thumbs-up sign on the right, which activates an animated, larger and blue version of the thumbs up – so it's clear to the user that she's Liked it. If your Like was inadvertent and you want to Unlike, you just click the thumbs up again and it returns to its original, white, Unliked state.
Given the very real problem of click fraud on PCs, which Google has been addressing for years on its conference calls, it's natural that analysts would raise the issue of bad data for mobile ads as well. This is all the more true given mobile devices' interface, where intended scrolling and clicking begin with the same finger press (a mobile click is actually a press plus a quick release). Ebersman was a bit disingenuous in his response by not addressing that UI difference. But given the actual design of Facebook's mobile ads, at this point the fat finger concern seems overdone.
Image: bayat