by Michael Tarsala
Banking and related stocks took a hit after the market's worst session so far this year, although some money managers continue to hold a bullish investment thesis for the group.
The Financial Sector SPDR (the XLF, in blue) is up more than 16% on the year, compared to just 9% for the S&P 500 (in red).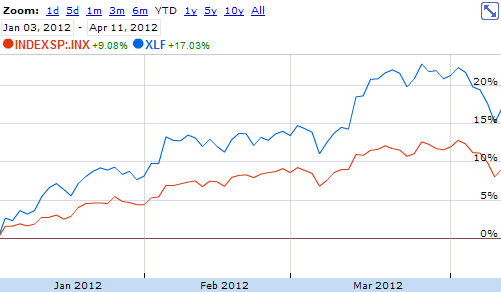 Source: Google Finance
Can this closely watched group continue to outperform?
Andy Schornack, manager of the Covestor Financial Services model, thinks they can and will. He's made his investments accordingly. Here are five reasons:
1) Asset quality continues to improve at the big banks, Schornack says. Here's what he had to say, even after the early April selloff:
"I think financials will continue to do well. The industry is getting on firmer footing, and the earnings are bound to improve due to asset quality improvements. Plus, M&A activity among the smaller banks is starting to pick up, which benefits the smaller regional players. I think you will see the biggest increases in the $1 billion to $10 billion – size banks."
2) Schornack is sticking to his thesis that EPS for the group is bound to get better. I talked to him this week, and confirmed that he still believes in an earnings rebound for financial stocks, driven by eventual gains in net interest margins.
3) Related to that very point the near-term worries about  potential Q1 earnings weakness for both banks and asset managers. We'll know soon enough if those are warranted. Yet there is at least some reason to think that perhaps analysts have become too conservative. The latest Thomson Reuters research notes the biggest positive earnings surprises in the Q1 earnings preseason are coming from financials.
4) Fresh systemic risk concerns emanating from Spain are now weighing on Morgan Stanley and some of the larger stocks in the sector, Schornack says. However, not every bank has strong ties to the European economy. The largest holding in Schornack's model right now is New York Community Bank, which has few direct ties to Europe. Part of his investment thesis is that the bank's financial ties to apartment buildings in New York City will drive results.
5) The financial stocks show at least some signs of being oversold in the near-term. Stochastics are metrics watched by technical analysts, and they reached an oversold level for the XLF recently. Of note, David Penn, editor at TradingMarkets.com, makes the case for why the XLF has declined to the point where buyers may come off the sidelines.