In the U.S. housing market, real estate inventory of homes for sale remains fairly tight after the subprime bust, which is one reason why prices have continued to slowly recover in recent years.
However, in market for luxury homes, inventory is much higher.
In other words, there are more homes for sale for high-end buyers to choose from.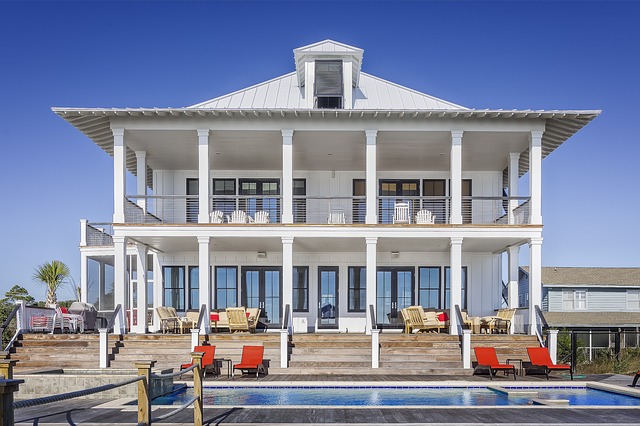 This is why in the luxury property market, getting involved in a bidding war doesn't make a whole lot of sense right now.
The graphic below from Zillow shows the inventory of homes for sale in several U.S. cities, broken down by price point. The top-value tier (shown in orange) has the most inventory.
Supply and demand
Overall, home prices continue to rise in the U.S., although the pace of gains has slowed a bit recently.
The S&P/Case-Shiller National Home Price Index rose 6.2% in June from a year earlier, and increased about 1% from the previous month, according to data released Tuesday.
One reason home-price gains are cooling is that more sellers are placing their homes on the market, reports Ruth Mantell for MarketWatch.
"The evidence suggests that house prices are leveling off following the sharp increases of 2013, with the improved supply we have seen in recent existing home sale figures putting a cap on price pressures, and demand still below last year's peaks," said Andrew Grantham, an economist at CIBC World Markets, in the article.
The inventory of homes for sale looks tight by historical measures, but supply has been rising in recent months. More supply and easing price growth will give buyers more of an edge.
A tale of two housing markets
Yet it appears that recent inventory growth has been concentrated in the high-end or luxury home market.
There are several reasons why supply is constrained in the lower-end market, and looser at the higher end.
In the lower-end market, many investors have paid cash in recent years to "flip" houses at higher prices, or convert them into rental units.
Also, "underwater" mortgages tend to be bunched in the lower end of the market. When a mortgage is underwater, it means that the borrowers owe more on the loan that the house is worth, and they may not be able to sell the house. This can reduce the inventory of homes for sale.
Bidding wars ease
The dichotomy in the U.S. housing market is frustrating for first-time homebuyers, but encouraging for move-up buyers.
"There is inventory coming on line, albeit slowly," said Nela Richardson, chief economist for Redfin, in a recent Bloomberg article. "The problem is it's not equally distributed. There is more turnover at the higher end."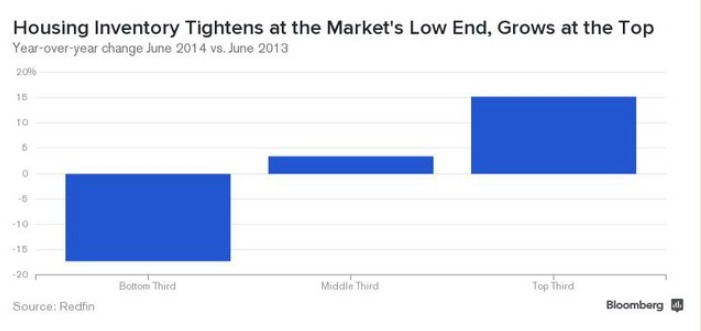 "The rising inventory of more expensive properties is giving a boost to sales and easing the bidding wars of the past two years," according to the report.
The bottom line is that high-end home buyers can probably afford to shop around and wait for a good deal.
It's a buyer's market in the luxury real estate sector, if your agent negotiates well. Maybe it really is time to purchase that vacation home in Malibu.
Continue learning: The 10 investing and personal finance books you should be reading this summer
—