Research in Motion (NASDAQ: RIMM) shareholders have had a rough year, as the following chart from Google Finance shows:
Much of the decline in the company's share price has been the result of the perception that RIMM's products lag behind its competition. On Wednesday (8/3), the company unveiled five new handsets that it hopes will close the gap:
The company's five new handsets are built on the BlackBerry 7 operating system. They include the full touch-screen models BlackBerry Torch 9850 and 9860, as well as RIM's thinnest smartphones, the BlackBerry Bold 9900 and 9930.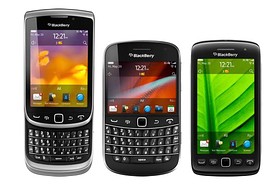 According to TechCrunch,
They're all powered by a 1.2GHz processor, have 768MB of onboard RAM and — most importantly — run the latest operating system BB OS7.

RIM claims its new OS is 40 percent faster at browsing compared to OS6-based smartphones, and 100 percent faster than OS5 handsets. It also supports RIM's Liquid Graphics technology, which uses a dedicated graphics processor for smoother scrolling, zooming and panning.
This is only the first in a phase of new roll-outs expected over the next year:
RIM is working on a platform based on the QNX operating system that powers the company's PlayBook tablet, but handsets for that platform are not expected until 2012.
Covestor models that held RIMM as of 8/3 include:
Eagle Portfolio 
Diversified Buybacks 
Bluenose
Sources:
Chart from Google Finance, http://www.google.com/finance?q=rimm
"RIM unveils challengers to iPhone, Android" Marketwatch, 8/3. https://www.marketwatch.com/story/rim-rolls-out-blackberrys-in-bid-to-catch-up-2011-08-03?siteid=rss&rss=1
"RIM launches BlackBerry Torch 9810, Torch 9860 and Bold 9900, we go hands-on!" TechCrunch. http://www.engadget.com/2011/08/03/rim-launches-blackberry-torch-9810-torch-9850-and/