Radioshack (NYSE: RSH) fell substantially today—from $17.61 to $15.62—on both the announcement of CEO Julian Day's retirement and the pre-announcement of a reduced quarter four 2010 EPS that is lower than 2009 quarter four's EPS and analysts' estimates.
RSH hired Day in 2006 after the company dealt with a disappointing  revenues, legal fees and weak wireless sales. The hope was that Day would be able to turn the company around as he did Kmart when he encouraged them to merge with Sears (NASDAQ: SHLD) and helped pull Kmart out of its bankruptcy and debt in May of 2003.
Some believe that RSH still has a toehold on success because 45 percent of their sales come from mobile phones, a product that continues to evolve and encourage repeat sales–almost as though it's a disposable product or quickly expiring commodity.
RSH competitors Best BUY (NYSE: BBY) and Verizon Communications (NYSE: VZ) didn't seem affected positively or negatively by the news, as each rose less than 1 percent (BBY to $35.27 and VZ to $35.24).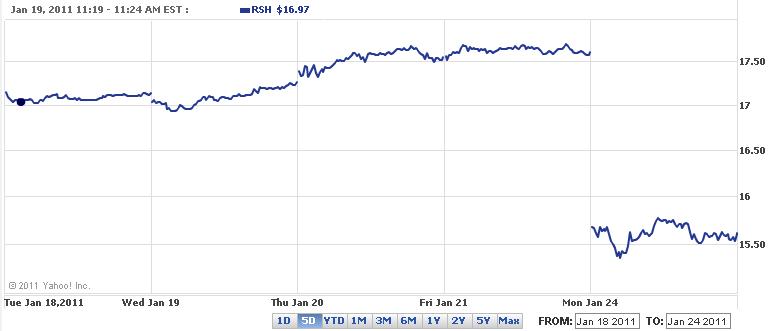 Covestor models with exposure in this sector include: Long-Short Generalist, Management Access, Abandon Stock, Long Term Value, and Bottom-Up Analysis Agg.
*Prices and charts courtesy of Yahoo Finance.