By: Jose Torres, Interactive Brokers' Senior Economist
Industrial production and capacity utilization data released today appear favorable for GDP while providing somewhat mixed messages about inflation. Industrial production notched a 0.4% month-over-month gain, better than expectations of 0.1% and a recovery from August's 0.1% decline. On a year-over-year basis, September's gain came in at 5.3%, better than August's 3.9% reading. Capacity utilization recovered back to the July level of 80.3 after falling to 80.1 in August. Gains were broad based across major market and industry groups and driven largely by supply chain improvements.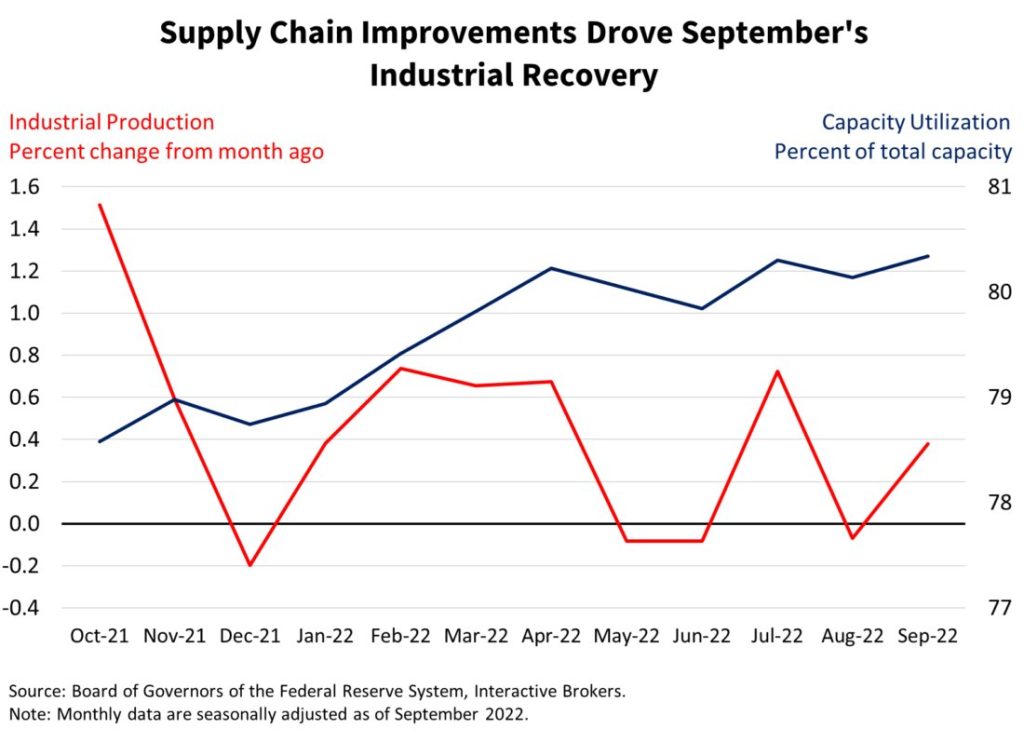 On an optimistic note, higher industrial production and capacity utilization are positive on the inflationary front because more goods being produced offers more supply for consumers to bid on, softening price pressures as consumers have more options.
At the same time, capacity utilization, or the percentage of the industrial sector's production capabilities being used, implies that efficiencies are improving, a deflationary development. Within today's data release, furthermore, business equipment had the largest year-over-year production increase, reaching 8.2%, implying that the economy's production capacity is increasing and that business sentiment about the economy may be improving.
Industrial activity, however, is expected to slow in the coming months due to the shift in spending from goods to services, tightening financial conditions, slower economic growth and international challenges.
On balance, today's report is favorable for GDP. Increasing production and higher capacity utilization means that the demand for goods is rising and that production is improving. GDP is driven mainly by consumer spending in the U.S. and in most developed nations, so improving demand is encouraging.
The production of major market groups experienced strong recoveries that erased most of August's losses. Construction, consumer goods and business equipment posted solid gains of 1.1%, 0.6%, and 0.5%, offsetting all of August's weakness and adding gains on top. Materials also contributed to gains albeit more modestly. Major industries also performed well during the month with mining and manufacturing posting gains of 0.6% and 0.4%. Utilities offset some of the progress with a contraction of 0.3% during the period.
Originally Posted October 18th, 2022 on the IBKR Traders' Insight Blog
PHOTO CREDIT: https://www.shutterstock.com/g/BiancoBlue85
Via SHUTTERSTOCK
DISCLOSURE: INTERACTIVE BROKERS
The analysis in this material is provided for information only and is not and should not be construed as an offer to sell or the solicitation of an offer to buy any security. To the extent that this material discusses general market activity, industry or sector trends or other broad-based economic or political conditions, it should not be construed as research or investment advice. To the extent that it includes references to specific securities, commodities, currencies, or other instruments, those references do not constitute a recommendation by IBKR to buy, sell or hold such investments. This material does not and is not intended to take into account the particular financial conditions, investment objectives or requirements of individual customers. Before acting on this material, you should consider whether it is suitable for your particular circumstances and, as necessary, seek professional advice.
The views and opinions expressed herein are those of the author and do not necessarily reflect the views of Interactive Brokers LLC, its affiliates, or its employees.
Any trading symbols displayed are for illustrative purposes only and are not intended to portray recommendations.
In accordance with EU regulation: The statements in this document shall not be considered as an objective or independent explanation of the matters. Please note that this document (a) has not been prepared in accordance with legal requirements designed to promote the independence of investment research, and (b) is not subject to any prohibition on dealing ahead of the dissemination or publication of investment research.