Placing a dollar value on the potential hit from climate change on the US economy is a difficult task. Yet two firms have tried to map out the flood risk to US commercial real estate and the numbers are daunting.

Global engineering firm First Street Foundation teamed up with consulting firm Arup to assess flood-related risks from rising seas and extreme rain events expected to occur as the planet warms in the decades ahead.

The report, dubbed the "The 4th National Risk Assessment: Climbing Commercial Closures," modeled the potential damage to 3.6 million retail, office, and multi-unit residential properties across the United States over the next 30 years.

Boston's Vulnerability

Among the regions believed most vulnerable to flood damage were Texas, Florida and Louisiana. Pittsburgh, which is located near three rivers, and Boston were also flagged for potential risks.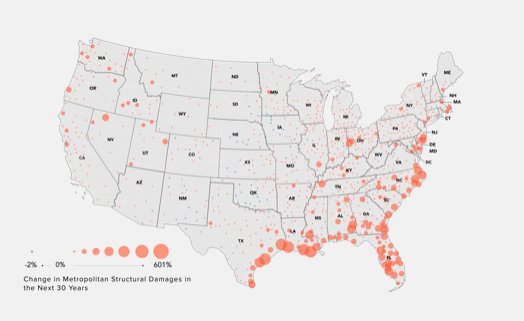 Among the key takeaways:

An estimated 729,699 retail, office, and multi-unit residential properties could face flood damage and the annual tab to repair or replace damaged buildings could "grow by roughly 25% from $13.5 billion in 2022 to over $16.9 billion by 2052 due to climate change," according to the two firms.

Lost revenue and other costs from damage to commercial properties could result in an annualized economic hit of $63.1 billion by 2052, a 26.5% increase over current levels.

"Flooding that leads to lost days of operation and lengthy repair times for local businesses could have significant broader national and even global economic consequences," according to the two firms.

Photo Credit: Giuseppe Milo via Flickr Creative Commons

DISCLOSURE
This piece is provided as educational information only and is not intended to provide investment or other advice. This material is not to be construed as a recommendation or solicitation to buy or sell any security, financial product, instrument, or to participate in any particular trading strategy.