By Michael Arone, CFA, Chief Investment Strategist, State Street Global Advisors
If the US election is anything like 2020 has been so far, buckle up, because we're in for a wild ride. Understandably, the November election has taken a back seat to the COVID-19 pandemic for most of this year.

But now, with the number of COVID-19 cases seemingly starting to cool in Sunbelt hotspots and less than two months remaining until the election, it's time to get refocused. The teams have been chosen. Wearing red and representing the Republicans are the incumbents, President Trump and Vice President Pence.

In blue are the Democratic challengers, former Vice President Joe Biden and current California Senator Kamala Harris. Both parties' national conventions are firmly in the rearview mirror. From here on out, it's full throttle to election day on November 3. And this just might be the wildest and craziest US election of all time!
It's the Economy, Stupid
The COVID-19 pandemic and its related aftershocks have caused tremendous harm to our health, economy and society. According to the Johns Hopkins Coronavirus Resource Center, there have been 6.1 million confirmed COVID-19 cases and more than 185,000 deaths in the United States as of September 1. And despite significant improvement in the labor market since the economy began to reopen earlier this year, the unemployment rate remains elevated, at 8.4%.
It's human nature to assign blame when things go horribly wrong. Naturally, our political leaders are often easy targets for our criticisms. Therefore, it's not surprising that the majority of Americans disapprove of the Trump Administration's handling of the pandemic. That just might be the single biggest reason that Trump trails Biden in most head-to-head national polls.
This blame-game dynamic ─ combined with Biden's advantage in the polls ─ has led many market participants to forecast a Democratic victory in November. In fact, not that long ago, odds of a so-called blue wave (a Democratic sweep of the White House, Senate and House of Representatives) were rising. This had champions of the left licking their chops over the possibility of a bold progressive policy agenda.
In recent weeks, a basket of stocks that have the potential to perform strongly under a Biden presidency have outperformed both the market and a group of stocks that would likely benefit from Trump's re-election1. History is also on the side of those forecasting a Biden victory, further fueling their confidence.

No US president has ever been re-elected when a recession has occurred within two years of election day. George H.W. Bush fell victim to this reality back in 1992, and now, many expect President Trump to suffer the same fate after the brief COVID-19-induced recession that occurred earlier this year.
Short Memories

Not so fast. Investors undeniably have short memories, but do they have amnesia too? In 2016, polls predicted that Brexit would fail and that Trump would lose. Yet, the exact opposite happened, shocking the world. A fascinating new survey from the Cato Institute could partly explain the unreliability of polls in recent years. This survey suggests that self-censorship is on the rise in the US. More than 60% of Americans say the political climate these days prevents them from saying what they believe because others might find their beliefs offensive. Cato also finds that the share of Americans who self-censor has climbed several points since 2017.2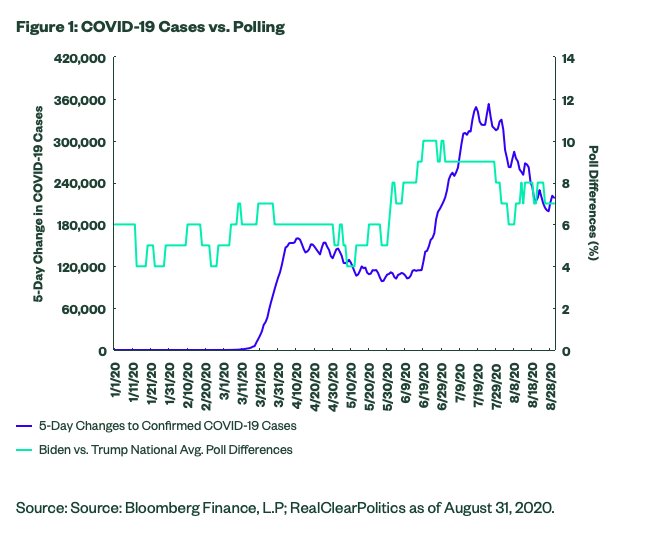 With Biden's lead narrowing since June ─ especially in potential swing states ─ many polls are now within the margin of error. Trump's rebound coincides with the reopening of the economy, the soaring stock market and growing optimism that we could have a COVID-19 vaccine by year's end. Extraordinarily, the direction and strength of COVID-19 in September and October might just determine who wins the election. With concerns about the pandemic temporarily fading, the election has become less of a referendum on Trump and more of a choice between candidates. This has likely contributed to Trump's bump in recent weeks.
Trump just might be able to defy the historical odds and win re-election. Or, he might not. But searching for signals by examining past election results is likely pointless this year. The COVID-19 election is a unicorn. This election is like nothing we've seen before. So, rather than look to the past, let's determine what could be at stake in the future by examining the candidates' expected policy agendas.
The Odd Couple
The presidential candidates represent a stark contrast in policy choices and leadership styles.
If elected to a second term, President Trump would continue to advance America First principles. And his isolationist approach would intentionally undermine global institutions like NATO, while simultaneously accelerating deglobalization trends. Tough trade talks and the use of tariffs as a crude policy tool are likely to persist during a second Trump term. Making permanent reductions from the Tax Cuts and Jobs Act of 2017 would be a policy goal. Ambitious immigration reform with an increased focus on building more of the wall along the US-Mexico border is expected in a second term. And finally, if re-elected, Trump may take another crack at significantly curtailing Obamacare.
A Biden presidency would likely be a throwback to Obama-era policies with a liberal progressive twist. Multilateralism, diplomacy and globalization would likely define the Biden agenda. Sweeping multilateral initiatives similar to the Trans-Pacific Partnership and the Paris Agreement would be more probable under Biden's leadership. He has pledged to roll back Trump tax cuts, especially for corporations and the wealthy. A more lenient immigration policy, tougher regulations for businesses and an expansion of Obamacare are also expected to come with a Biden win.
Despite significant disagreements on taxes, trade, immigration, climate change and healthcare, Trump and Biden do agree on some matters. There are powerful populist themes coursing through both candidates' messages. A major rebuild and upgrade of America's crumbling infrastructure is a shared policy goal. And unlike past elections, concerns about exploding debt and deficits are absent from the debate. Both Trump and Biden plan to expand massive government spending within their respective policy agendas.
Don't Forget About Me
Perhaps just as important as the outcome of the presidential election are a number of Senate races that will be decided in November. If either presidential candidate wants to be successful in executing their ambitious policy initiatives, control of the Senate will be key. If Trump prevails victorious, the Senate majority is likely to stay in favor of Republicans. However, if Biden wins, the outcome of the Senate races could get a lot more interesting.
Currently, there are nine Senate races that can be considered highly contested. Six of those Senate seats are presently held by Republicans. The Democrats need to gain a net three or four seats ─ depending on which party controls the vice presidency ─ to ensure a Senate majority. The latest polling suggests that Democrats could gain control of the Senate.
A potential blue wave in November poses risks to markets. Investors prefer gridlock. It ensures balance in government policy. In that sense, the outcome of the Senate races may be even more important to investors than who wins the White House in November.
Talk Is Cheap – Let's Take It to the Polls
The incredible rise of populism combined with the growing divisiveness among voters has contributed to the ineffectiveness of polling results in the past few years. Don't get fooled again. Biden may have the lead now, but this race is a lot closer than you think. It will likely come down to the wire. Trump will likely lose the popular vote by a noticeable margin, but the presidency will be determined by a handful of counties in a few swing states in the electoral college. The expected record number of mail-in ballots as a result of the pandemic will add more drama — and potential controversy, too. It might take days, if not weeks, to determine the winner.

Photo Credit: Yuri Samoilov via Flickr Creative Commons

FOOTNOTES

1 Paul R. LaMonica, "The stock market thinks Joe Biden is going to beat Donald Trump," cnn.com, September 2, 2020.2 The Cato Institute Summer 2020 National Survey was designed and conducted by the Cato Institute in collaboration with YouGov. YouGov collected responses online during July 1–6, 2020 from a national sample of 2,000 Americans 18 years of age and older. Restrictions are put in place to ensure that only the people selected and contacted by YouGov are allowed to participate. The margin of error for the survey is +/- 2.36 percentage points at the 95% level of confidence.
DISCLOSURE
Certain of the information contained in this presentation is based upon forward-looking statements, information and opinions, including descriptions of anticipated market changes and expectations of future activity. SPDR Gold Strategy Team believes that such statements, information, and opinions are based upon reasonable estimates and assumptions. However, forward-looking statements, information and opinions are inherently uncertain and actual events or results may differ materially from those reflected in the forward-looking statements. Therefore, undue reliance should not be placed on such forward-looking statements, information and opinions