In my view, the market internals have looked horrible in the last several trading sessions, and if you're not concerned about it, that's fine.

In my opinion, though, don't be surprised if the market starts to falter should the share prices of Apple (AAPL) and Tesla (TLSA) start to falter.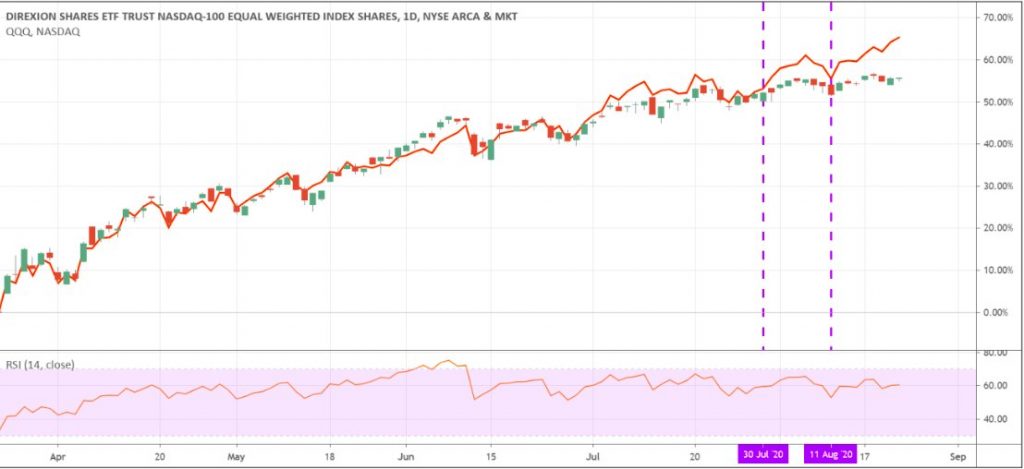 In my view, you can see this dynamic when you compare the NASDAQ 100 ETF (QQQ), to the NASDAQ 100 Equal Weight ETF (QQQE). Or consider what happened on July 30, when Apple announced its stock split, or on August 11 after Tesla unveiled a similar move.

We can see the divergence which both occurred during the next trading session.

Market Breadth

Also, in my opinion, investors should pay attention to the fact that the number of stocks in the NASDAQ 100 trading above their 50-day moving average is falling, which is a sign of much of the index losing momentum.

Also, in my view, these two stocks have a big influence in the direction of the overall market.

Apple had a 13.8% weighting in the NASDAQ 100 (QQQ) as of July 31, which is up from 11.2% on May 31. Tesla accounted for 2.4% of that index's weighting as of the end of July.

Takeaway
Both certainly have even bigger weightings as August draws to a close, given their stocks' explosive growth in price in recent weeks.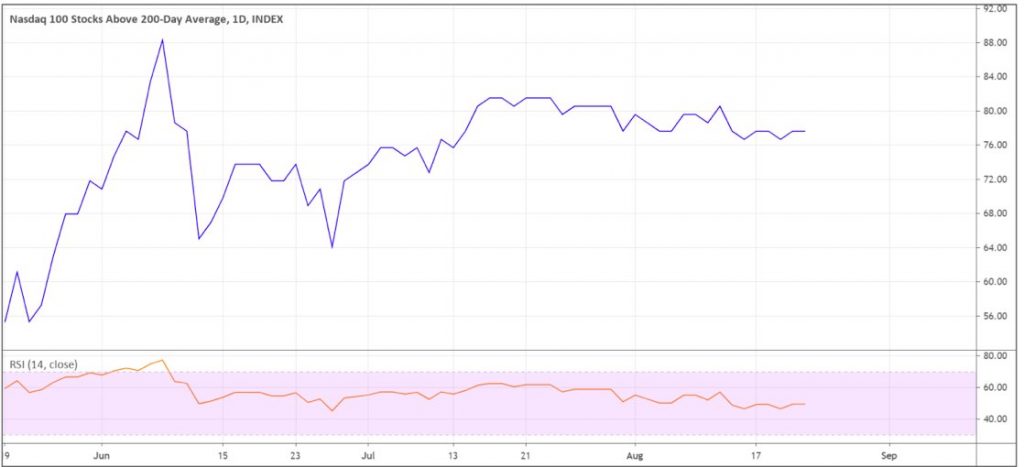 In my opinion, as long as Tesla and Apple keep going up, good things may happen to the broader indexes.
If they pause or should start to fall, then the market is likely going to struggle.
Photo Credit: Neils Epting via Flickr Creative Commons
Disclosure

Mott Capital Management, LLC is a registered investment adviser. Information presented is for educational purposes only and does not intend to make an offer or solicitation for the sale or purchase of any specific securities, investments, or investment strategies. Investments involve risk and, unless otherwise stated, are not guaranteed. Be sure to first consult with a qualified financial adviser and/or tax professional before implementing any strategy discussed herein. Upon request, the advisor will provide a list of all recommendations made during the past twelve months. Past performance is not indicative of future results.

This publication may contain forward-looking assessments. These are based upon a number of assumptions concerning future conditions that ultimately may prove to be inaccurate. Such forward-looking assessments are subject to risks and uncertainties and may be affected by various factors that may cause actual results to differ materially.