Jeremy Schwartz, CFA, Executive Vice President, Global Head of Research

In a recent episode of Behind the Markets, we had a special discussion about cloud computing with two great guests.
For the last four years, Bessemer Venture Partners (BVP) has worked with Forbes to create an annual "state of the cloud" report. The Cloud 100 list is a ranking of the 100 best cloud companies, as rated by a panel of cloud business CEOs, BVP and Salesforce Ventures.
We spoke with Mary D'Onofrio, Vice President at BVP, about her insights from the first four Cloud 100 lists. She also discussed the latest benchmarking report she just released.
We also had Frederic Kerrest, Executive Vice Chairman, Chief Operating Officer and Co-Founder of Okta, discuss trends in his business and the cloud generally.
Developments in the Private Cloud Market
In 2016, the average Cloud 100 company valuation was $1.1 billion, but four years later, the average is about $1.7 billion. In September, BVP will release its 2020 Cloud 100 list and host a virtual conference where we will hear from CEOs and industry participants. D'Onofrio expects the average valuation of the 2020 list may be over $2 billion.
The Cloud 100 list foreshadows the future pipeline of companies expected to go public in the near future, and speaks to the future potential of investing in the space
Of all the private equity investment exits in cloud companies over the last four years, about half went public via an initial public offering (IPO). The other half were acquired in mergers and acquisitions (M&A) transactions.
From the 2019 list, only seven companies have exited, which means there is a backlog of 93 private businesses that should see accelerated exits soon. Founders and employees often prefer going public to capture more upside from public financial markets. M&A transactions often involve less direct upside.The business fundamentals of cloud businesses are supporting growth in public market valuations. D'Onofrio's analysis of the latest quarter of earnings for companies in the BVP EM Cloud Index showed the average cloud company growing sales by over 35%, while 95% of companies beat their first-quarter earnings expectations.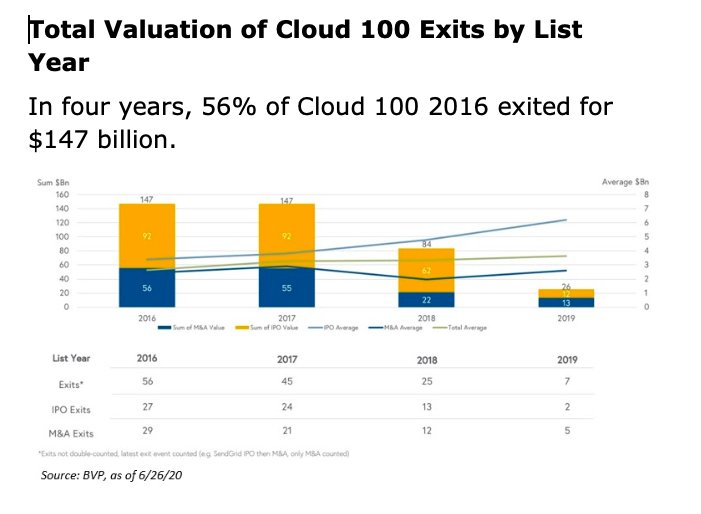 A Closer Look at Okta and Kerrest's Background
Okta has been one of these top-performing cloud companies in public markets over the last three years. Okta today is a $25 billion market cap enterprise security business with about $750 million in revenue. It has 8,400 customers and has been growing over 40% annually for a number of years. The Okta identity cloud allows a single sign-on (SSO) to over 7,000 separate applications that Okta has integrated.
Kerrest's background is in computer science and writing code. He went to Salesforce in 2002 when it had a few hundred employees. There he met his Okta co-founder, Todd McKinnon, who was then head of Salesforce engineering.
How Early Are We in the Cloud Shift?
Kerrest believes we are still "very early" in industry's shift to the cloud. Okta just had its 10 year anniversary, and Kerrest discussed the following to frame what is ahead for the company:
From 2009–2019, enterprise information technology (IT) grew to become a $3.2–$3.8 trillion business worldwide, exhibiting 20% growth.
The enterprise software business grew from $220 billion to $430 billion, nearly doubling.
Enterprise Software-as-a-Service (SaaS), or enterprise cloud, grew from a $7.5 billion business to $95 billion. But if it already grew 12 times over, can it continue to grow? The enterprise cloud business is still just 3% of total IT spend.
Digital transformation is another key buzzword in the cloud business. Consider how that has accelerated with the pandemic. E-commerce as a percentage of total commerce grew from 6% to 16% from 2010 to 2020. But from January 2020 to July 2020, we've gone from 16% to 27% in North America alone. A decade of growth occurred in five months, and Kerrest believes we are not going back.These were two great conversations on what is happening in the cloud industry, one of the hottest spaces in markets today. You can listen to the entire discussion below.
Photo Credit: Ulrika via Flickr Creative Commons
Disclosure: Certain of the information contained in this article is based upon forward-looking statements, information and opinions, including descriptions of anticipated market changes and expectations of future activity. WisdomTree believes that such statements, information, and opinions are based upon reasonable estimates and assumptions.