Is a new Cold War emerging between the US and China and what does that mean for your portfolio?
The Trump Administration has challenged China on its trade practices. Yet even after President Trump leaves the White House, the economic and strategic rivalry between both countries is likely to continue creating tensions for years ahead.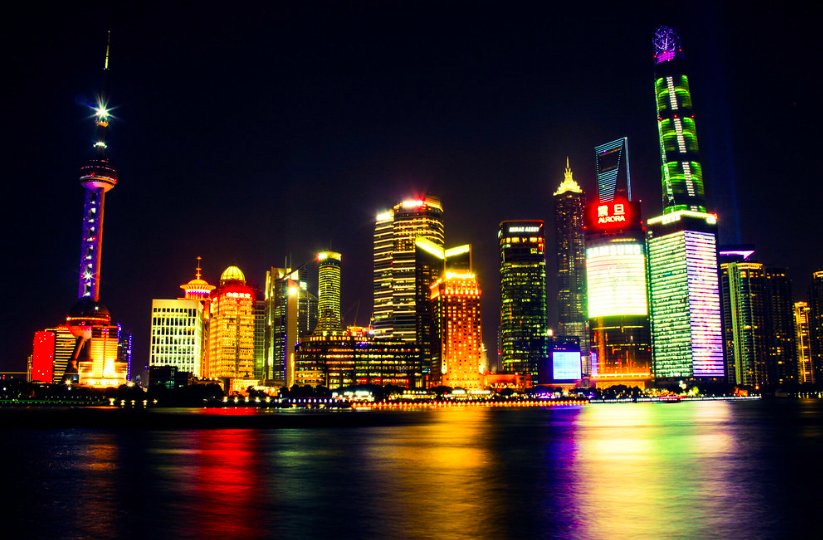 To track all this for investors, Goldman Sachs (GS) has developed a "relations barometer" to calibrate investor risk when it comes to US-China trade, technology, capital markets and geopolitics, according to Business Insider.
"Focusing exclusively on bilateral trade frictions is no longer sufficient for investors to comprehend the complicated US-China dynamics and to subsequently assess risk/reward," Goldman advised its clients in a note cited by Business Insider.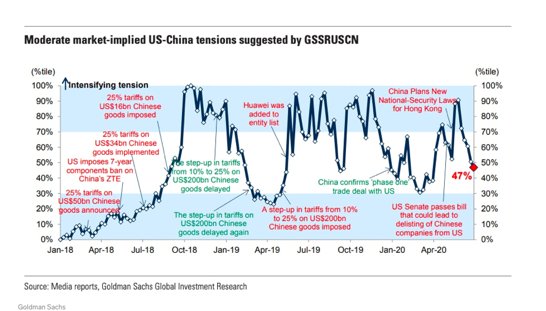 Reshoring
Some China hawks in Washington have called for a dismantling of Western high-tech supply chains based on the mainland, given growing concerns about Chinese spying and intellectual property theft.
Goldman Sachs doesn't see the economic relationship between the two giants unravelling completely. The exposure level to tensions varies from industry to industry, the investment bank argues.
Chinese technology companies, whose shares trade as American Depositary Receipts (ADRs) on US exchanges, may be most exposed to bilateral tensions, Goldman said.
However, Chinese companies that focus on consumer essentials and healthcare are less likely to be impacted by diplomatic relations in my opinion.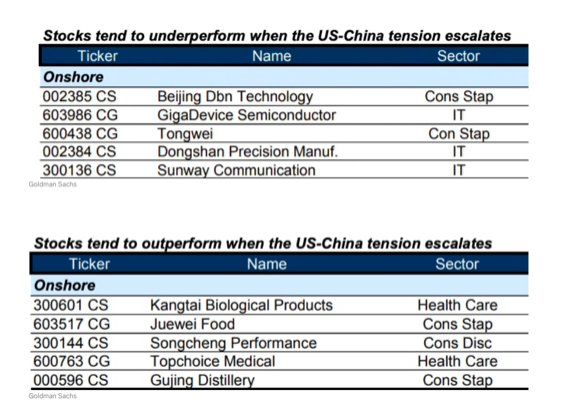 Takeaway
The Chinese economy is expected to grow at a slower pace, some 5.6%, this year, due to the impact of the global pandemic, according to the International Monetary Fund's latest global growth forecast.
The benchmark Shanghai Composite Index and CSI 300 Index of Shanghai and Shenzhen stocks are up about 10% and 15%, respectively, in 2020 as of July 6.
Photo Credit: François Philipp via Flickr Creative Commons
Disclosure: This publication may contain forward-looking assessments. These are based upon a number of assumptions concerning future conditions that ultimately may prove to be inaccurate. Such forward-looking assessments are subject to risks and uncertainties and may be affected by various factors that may cause actual results to differ materially.