Jeremy Schwartz, CFA, Executive Vice President, Global Head of Research

We recently spoke with Ryan Detrick, Senior Market Strategist at LPL, on our Behind the Markets podcast. This was a great conversation on the macro situation and technical market dynamics around the world with historical analogies.
Detrick uses historical patterns and quantifiable data to justify investment decisions.
Markets had the fastest 30% correction and the fastest 27% bounce back in the last 15 days.
Detrick spoke about a 50-year pattern, with viruses breaking out in 1918, 1968 and now in 2020. In both 1918 and 1968, the markets lost between 33% and 36%, and now in 2020 the S&P 500 fell about 34%, right in line with both pandemics.
Time for a Retest of the Bottom?
Detrick believes there is usually a retest of the market bottom. After the great crash in October 1987, the market broke lows that December before continuing higher in 1988.
October 2002 had a good-sized bottom, but it had another low in March 2003.
October 2008 featured the Lehman bankruptcy, and while markets bounced into December, there was a flush down and markets didn't bottom until March 2009.
Detrick is careful to say we are not completely out of the woods, and he would not be surprised to see a pullback of 8%–12% in the short run.
One of the charts Detrick is watching comes from the Bank of America Global Fund Manager survey that shows fear is historically high, and there is a record amount of cash in institutional fund managers' portfolios.
FMS Investors Overweight Cash Like Never Before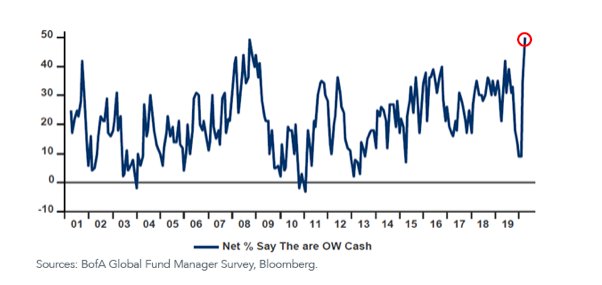 Will This Be the Shortest Recession Ever?
Detrick believes this will be the shortest recession ever, as the government caused it and will also help rectify it. A parallel to this government-inflicted recession is when Paul Volker caused a recession in the early 1980s by hiking rates to cause inflation, and it only lasted six months.
Detrick's team is positioning portfolios in the following ways:
Large caps over small caps
Technology and health care as the leading sectors
China technology in particular, since this area is holding up well in emerging markets
This was a great conversation. Please listen to the full episode below.


Photo Credit: Yuri Samoilov via Flickr Creative Commons
Disclosure: Certain of the information contained in this article is based upon forward-looking statements, information and opinions, including descriptions of anticipated market changes and expectations of future activity. WisdomTree believes that such statements, information, and opinions are based upon reasonable estimates and assumptions.
However, forward-looking statements, information and opinions are inherently uncertain and actual events or results may differ materially from those reflected in the forward-looking statements. Therefore, undue reliance should not be placed on such forward-looking statements, information and opinions.