Has China caught the dreaded Japanese deflation syndrome?
In September, China's closely-watched producer price index declined 3.6% versus the year-ago period. What this means in practice is that Chinese factories are losing pricing power and face a major drag on corporate earnings. Chinese industrial companies' profits fell 6.2 percent in August from a year earlier according to Bloomberg, which noted that drop is "the largest decline this year and the fifth straight monthly deceleration."
Sounds grim, but China isn't Japan, where deflation has been an issue for more than a decade thanks to poor central bank and government policy after the country's real estate bust and banking crisis, plus a rapidly aging society.
China has far more robust economic fundamentals — a relatively weak currency, strong exports and expanding middle class — than Japan. China's economy, which has overtaken Japan's as the world's No. 2, advanced 7.4% in the third quarter. True, as the Economist pointed out, that is the slowest rate of growth since early 2009.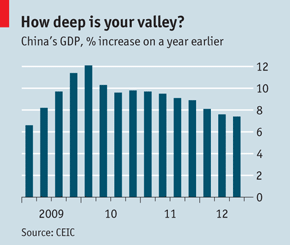 However, the good news from Beijing's perspective is that the producer price declines and tame consumer price trends (CPI in September eased to 1.9% year-on-year in September) means China may be pulling off a soft landing. The worry back in 2010 after all was that China would overheat, suffer an inflationary spike and then crash.
Instead, China may have more room to pump stimulus into the economy and get growth back up to 9% or so — an optimal pace for a country that needs brisk growth to keep unemployment  at manageable levels.
Make no mistake: China faces plenty of challenges ahead. But catching the Japan disease isn't one of them.
Image: Dawvon