By Pedro Palandrani, Global X research analyst

Cannabis
UK-based GW Pharmaceuticals' cannabis-derived drug, Epidyolex, received approval from the European Commission. The drug treats seizures associated with two rare forms of childhood epilepsy, Lennox‑Gastaut syndrome (LGS) and Dravet syndrome.1
Epidyolex contains a highly purified, plant-derived cannabidiol (CBD), which is a cannabinoid that lacks the "high" induced by delta-9-tetrahydrocannabinol (THC). In 2018, Epidyolex became the first cannabis-derived drug approved by the U.S. Food and Drug Administration. Another GW Pharmaceuticals drug, Sativex, treats spasticity in patients with multiple sclerosis.
It contains the principal CBD and THC in a 1:1 ratio. The company began marketing the drug as a prescription-only medicine abroad in 2010.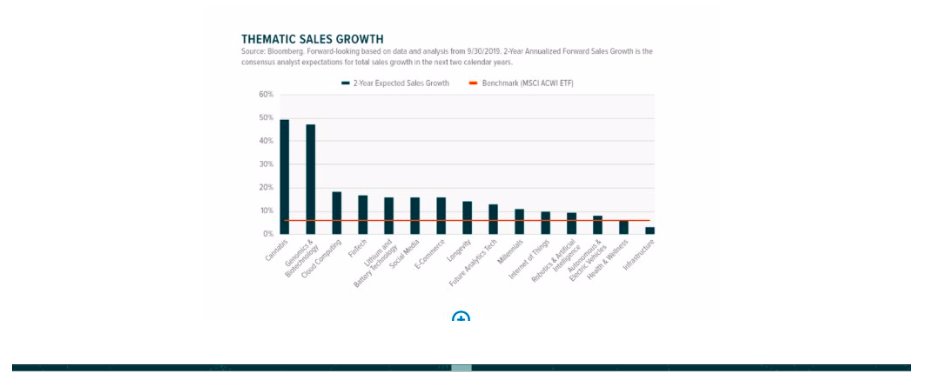 Robotics
Industrial robots scoff at cyclical weakness
The industrial robotics market grew a healthy 6% year-over-year in 2018, according to the International Federation of Robotics' (IFR) annual report.2 The 422,000 industrial robots sold came despite cyclical weakness in historically important end-markets for the robotics industry, including automotive and consumer electronics.3
Above-average growth from the U.S., Germany and Japan helped propel sales.4 New to the IFR's report were data on collaborative robots, or cobots. The 14,000 units sold, or 3% of total industrial installations, suggest that this nascent vertical could grow significantly faster than the overall industry.5Cobots can now handle even fresh food items with care; their soft grippers benefit from improved dexterity and better end-of-arm-tooling.
Service robots for professional use in industries ranging from logistics to medical and defense, rose by 61% to more than 271,000 units.6

Cloud Computing
On September 19th, Datadog became the fourth Software-as-a-Service (SaaS) company to IPO this year and reach a $10 billion market cap.7 The stock of this leading cloud-scale monitoring provider closed its first trading day up 39%.

Largely insulated from trade tensions thus far, SaaS companies continue to achieve high top-line revenue growth in an economic environment where growth is increasingly scarce. Many cloud companies boast high net dollar revenue retention rates, a metric that is now a key performance indicator (KPI) in the broader "as-a-service" industry as analysts place a premium on recurring cash flows.

For Datadog, the rate stood at 146% for the first half of the year.8 Calculated as the beginning of period revenue of a cohort of customers + upgrades – downgrades – churn, divided by beginning of period revenue, this metric reflects how attractive and sticky business models tend to be in SaaS.
Internet of Things
When IoT Flies
Airbus became the first aircraft manufacturer to flight-test cabins enhanced by Internet of Things (IoT) innovations.9 After graduating from the concept phase earlier this year, the Airbus Connected Experience now offers airlines the ability to monitor and send large amounts of data to central analytical algorithms enabling significant value-added services for passengers, airlines and crews.

For passengers, the goal is to create more personalized flight experiences, such as pre-ordering food and drink options remotely and booking private bin spaces, among other tailored options. Of course, this will also allow airlines to increase monetization opportunities.
Artificial Intelligence
Using AI to Hand Out Big Macs
McDonald's signaled a commitment to enhance customer ordering at the drive-thru with its acquisition of Apprente. A two-year-old startup, Apprente uses machine learning to deliver human-level, conversational ordering in multiple languages and accents. Drive-thrus at fast-food restaurants like McDonald's can be great use-case for artificial intelligence (AI) technologies, which could streamline everything from taking orders to making recommendations and processing payments.

McDonald's announced that Apprente will also be the founding member of McD Tech Labs, an integrated group within McDonald's global technology division.10
New AI neural network detects heart failure from a single beat
Researchers from the Universities of Surrey, Warwick and Florence developed a new AI technology able to detect congestive heart failure (CHF) with 100% accuracy.11 And they did so using just one raw electrocardiogram (ECG) heartbeat.12 The researchers used Convolutional Neural Networks (CNN), a deep learning algorithm that takes in an input image and differentiates it from another.

Large, publicly available ECG datasets featuring people with CHF and healthy hearts were critical to breakthrough.13 With high patient mortality rates for advanced CHF cases, early and accurate detection can be the difference between a life-threatening event and early and efficient diagnosis.
Amazon's Alexa learns to crowdsource
Amazon's new Alexa Answers program will allow users to discover questions Alexa doesn't have an answer for and submit the answers.14 Contributors will earn points every time Alexa shares the answer. Points will be tallied on a public leaderboard and contributors will be able to receive feedback from each other.

Algorithms are expected to police the answers and offer editorial oversight. However, feedback from other users—especially those who receive the answers—will be key for Alexa to determine if the answer is accurate and appropriate. As AI development hinges on building up datasets, this is a new way for Amazon to capture more data and engage its customers.

This article was first published on October 9 at globalxetfs.com.

Photo Credit: Dan Cook Archived via Flickr Creative Commons


Reference Shelf
1. GW Pharmaceuticals, "GW Pharmaceuticals receives European Commission approval for EPIDYOLEX® (cannabidiol) for the treatment of seizures in patients with two rare, severe forms of childhood-onset epilepsy," Sep 23, 2019.
2. IFR, "President's Report: World Robotics 2019 published," Sep 18, 2019.
3. Ibid.
4. Ibid.
5. Ibid.
6. Ibid.
7. CNBC, "More $10 billion software companies are being minted than ever before — here's why," Sep 22, 2019.
8. Medium, "Datadog IPO | S-1 Breakdown," Aug 25, 2019.
9. Airbus, "Airbus commences in-flight trials of connected cabin technologies," Sep 11, 2019.
10. McDonalds, "McDonald's to Acquire Apprente, An Early Stage Leader in Voice Technology," Sep 10, 2019.
11. University of Surrey, "New AI neural network approach detects heart failure from a single heartbeat with 100% accuracy," Sep 10, 2019.
12. Ibid.
13. Ibid.
14. Alexa Answers, website Sep 2019.
Disclosure:
Investing involves risk, including the possible loss of principal. International investments may involve risk of capital loss from unfavorable fluctuation in currency values, from differences in generally accepted accounting principles, or from economic or political instability in other nations. Emerging markets involve heightened risks related to the same factors as well as increased volatility and lower trading volume. Securities focusing on a single country and narrowly focused investments may be subject to higher volatility. CHIQ is non-diversified.
Shares of ETFs are bought and sold at market price (not NAV) and are not individually redeemed from the Fund. Brokerage commissions will reduce returns. Global X NAVs are calculated using prices as of 4:00 PM Eastern Time. The closing price is the Mid-Point between the Bid and Ask price as of the close of exchange. Closing price returns do not represent the returns you would receive if you traded shares at other times. Indices are unmanaged and do not include the effect of fees, expenses or sales charges. One cannot invest directly in an index.
Carefully consider the Fund's investment objectives, risks, and charges and expenses before investing. This and additional information can be found in the Fund's summary or full prospectus, which may be obtained by calling 1-888-GX-FUND-1 (1.888.493.8631), or by visiting globalxfunds.com. Please read the prospectus carefully before investing.