Michael Arone, CFA, Chief Investment Strategist, SPDR

It's summer! Let's have some fun: blockbuster movies, thrilling beach reads, rollercoasters, fireworks and, of course, tall tales told while sitting around a fire. Heck, even I've been accused of spinning a yarn a time or two.

All good storytellers know that great fiction requires rich but deeply flawed characters, plot twists and the audience's willing suspension of disbelief. Today's environment provides the perfect ingredients for an implausible delusion.

Shakespeare himself would be impressed with the tall tale that I've spun for you this month. So, sit back, enjoy and let your imagination run wild. I'll leave it to you to determine if this is a fantasy or an alternate reality. I'll never tell.
False narratives: "Shall we their fond pageant see?"
Capital market action is being dominated by a handful of investor narratives, not underlying fundamentals. This strange brew suggests that the US economy is spiraling toward an unexpected recession, that the threat of inflation has been defeated and that the Federal Reserve (Fed) has no choice but to slash interest rates soon in order to extend the good times.
It may sound scary, but risky assets have been celebrating while confidently waiting for the Fed and other global central banks to deliver on their promises of easier conditions ahead. Stocks, bonds and gold are all soaring. What could go wrong?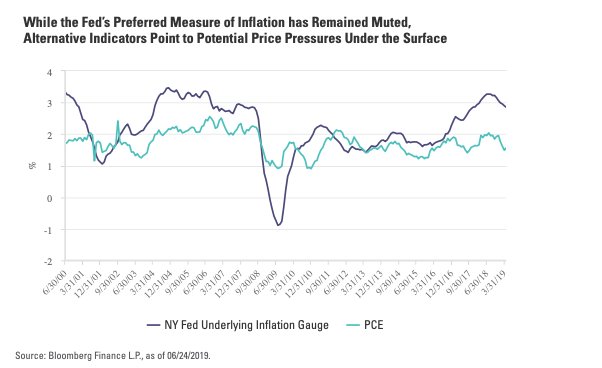 As a result of the slowing economy and mild inflation readings, investors have priced in with certainty a Fed rate cut at the end of July. In fact, the target fed funds rate is so far above the core personal consumption expenditures (PCE) index that many market participants are anticipating two additional rate cuts by year's end.

However, it's difficult to imagine the Fed aggressively cutting rates with unemployment near 50-year lows, cryptic inflation readings, a strong US consumer and stocks at new heights.
So are two or three Fed rate cuts really a slam dunk? The answer lies in those plot twists, far-fetched storylines and fascinatingly flawed characters with giant egos that I promised you…

For more, please read the rest of the post originally published on the SPDR Blog on July 1.
Photo Credit: edward stojakovic via Flickr Creative Commons
This material is from State Street Global Advisors and is being posted with State Street Global Advisors' permission. The views expressed in this material are solely those of the author and/or State Street Global Advisors and are subject to change based on market and other conditions. Interactive Advisors is not endorsing or recommending any investment or trading discussed in the material. The opinions expressed may differ from those with different investment philosophies. This material is not and should not be construed as an offer to sell or the solicitation of an offer to buy any security. To the extent that this material discusses general market activity, industry or sector trends or other broad-based economic or political conditions, it should not be construed or relied on as research or investment advice. This information does not take into account any investor's particular investment objectives, strategies, tax status or investment horizon. This material is for informational purposes only and does not constitute investment or tax advice and should not be relied on as such. To the extent that it includes references to specific securities, commodities, currencies, or other instruments, those references do not constitute a recommendation to buy, sell or hold such security. This material does not and is not intended to take into account the particular financial conditions, strategies, tax status, investment horizon, investment objectives or requirements of individual customers. Before acting on this material, you should consider whether it is suitable for your particular circumstances and, as necessary, seek professional advice.