On July 15 and 16, mighty online retailer Amazon (AMZN) will launch its Prime Day sales extravaganza that will attract millions of consumers looking for bargains.
While the retailer has its detractors, especially among labor advocates critical of its treatment of workers, this is clearly a company on a roll.
It raked in revenue of $59.7 billion in its first fiscal quarter and a cool $3.6 billion in net income.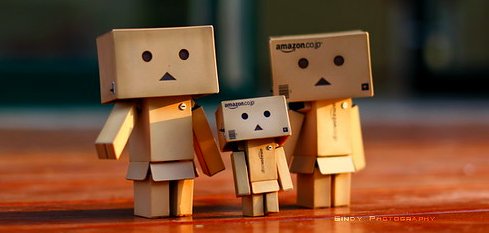 Cloud Computing
On top of that, its cloud computing services business, Amazon Web Services, continues to grow rapidly.
Its market value, which last year surpassed the $1 trillion mark for the first time, is hovering at $961 billion as of July 9.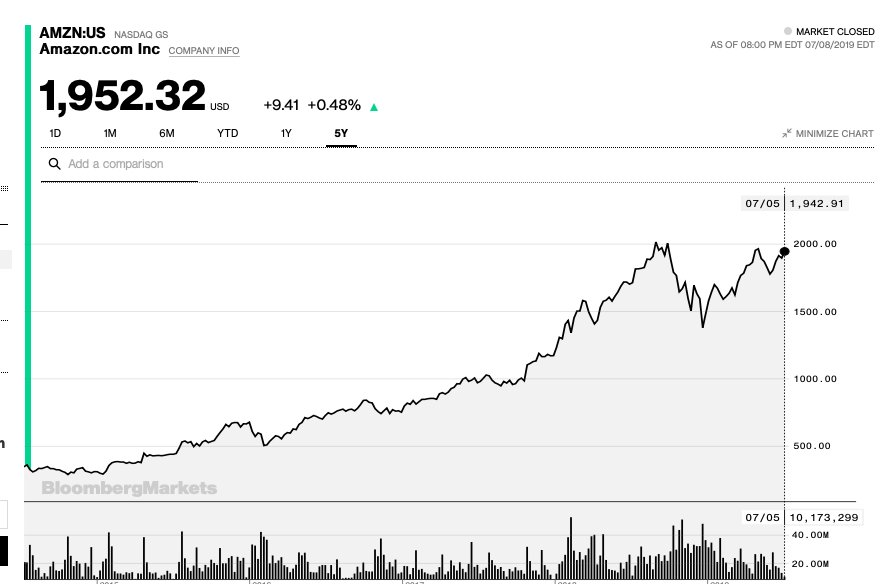 Short Interest
Another way to show Amazon's sheer dominance is to look at how investors are treating the giant's traditional retailing rivals.
Bespoke Investment Group really pulled together a list looking at 29 stocks in the S&P 500 Index that are targets of short sellers.
It specifically screened for companies that have more than 10% of their share float sold short.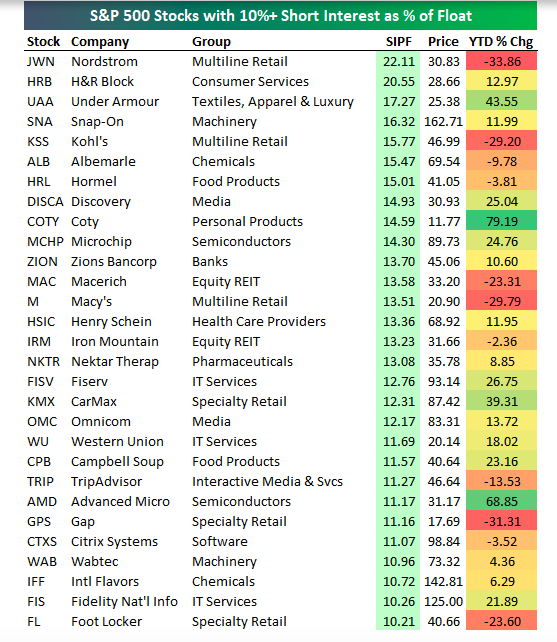 Legacy Plays

At the top of the list is luxury retailer Nordstrom (JWN) that, as Bespoke notes, has 22% of its float sold short.

Other retailers on the list include Under Armour (UAA), Kohl's (KSS), Macy's (M), Gap (GPS), and Foot Locker (FL).

In my opinion, this shows that Amazon casts a very long shadow over the retail industry.

Photo Credit: sⓘndy° via Flickr Creative Commons
Disclosure: The views expressed in this material are solely those of the author and are subject to change based on market and other conditions. Interactive Advisors is not endorsing or recommending any investment or trading in the stocks discussed. This material is not and should not be construed as an offer to sell or the solicitation of an offer to buy any security. To the extent that this material discusses general market activity, industry or sector trends or other broad-based economic or political conditions, it should not be construed or relied on as research or investment This material is for informational purposes only and does not constitute investment or tax advice and should not be relied on as such. To the extent that it includes references to specific securities, commodities, currencies, or other instruments, those references do not constitute a recommendation to buy, sell or hold such security.