In recent years, Ford (F) and General Motors (GM) have been portrayed as industrial dinosaurs struggling to adapt to the auto world's shift toward electric vehicles and self-driving cars.

There's a widespread belief that the future of the car industry belongs to luxury EV-maker Tesla as well as Google (GOOGL) and Apple (AAPL) that are currently investing in self-driving vehicles.

Maybe not, according to an interesting post by Bespoke Investment Group.
Changing Fortunes
Both Ford and General Motors have overtaken Tesla in terms of market value.
As of April 26, investors valued Ford at $41.2 billion — or more than $700 million more than Tesla's market cap.GM is No. 1, valued at $56.2 billion.
"Just four months ago in December 2018," as Bespoke points out, "Tesla's market cap was double that of Ford's."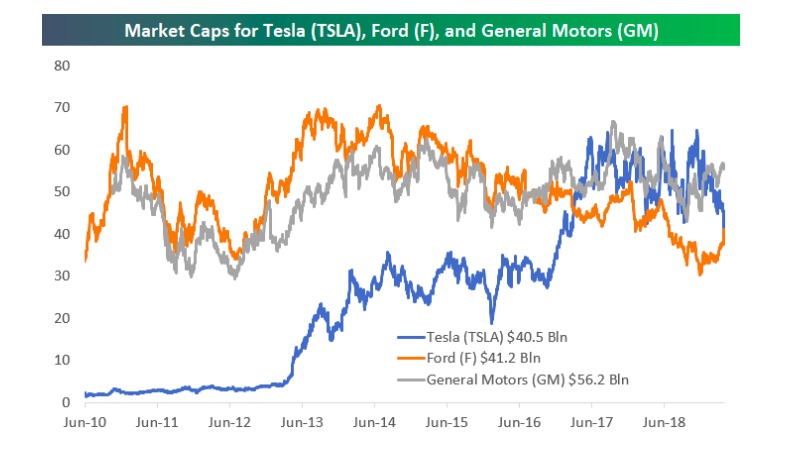 Tesla Slips

Tesla surprised analysts by posting a $702 million loss in its latest quarter.

On top of that, its founder Elon Musk has been in hot water with the Securities & Exchange Commission over his tweets about the company's business prospects.

Tesla is feeling the pressure from a lower federal tax credit on electric vehicles, increasing competition from traditional automakers and slower sales in China.

For its part, Ford's shares shot up nearly 11% on better- than-expected earnings, powered by sales of its traditional trucks and vans.

At the moment, it looks like Detroit has trumped Silicon Valley.

Photo Credit: Bryan Debus via Flickr Creative Commons